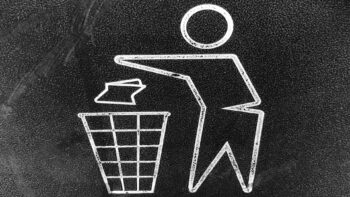 Talking Trash
While the 2010 ADA Standards for Accessible Design offers guidance on many design issues in a restroom, they leave out something important — the trash can. That leaves it up to the designer or facility manager to interpret the ADA Standards' intent and apply it to the trash can.
Having a clear, unobstructed path is the intent. So, placing the trash can out of the pathway seems obvious. But, what about in front of the sink/faucet area or in front of hand dryers/paper towel dispenser? These areas would be subject to obstruction and reach guidelines.
The best practice would be to determine a fixed location such as a wall mounted receptacle. Yet, here too, per ADA Advisory recommends the entire unit cannot extend out more than 4" and be 27" above the floor. The rest is up to you.
Issues can arise if you add a standard trash can (on the floor) to a space that is already as small. The resulting clear floor space may not comply with the ADA. Possible alternatives include a wall mount receptacle that extends 4" or less, a recessed trash can or a combination paper towel dispenser/trash receptacle.
Manufacturers
There are many manufacturers of trash cans that can accommodate for ADA restrooms. Here are a few to consider.
Bobrick. Bobrick is recognized as an industry leader in well-designed, value-oriented restroom accessories and toilet partitions. Some of the world's most renowned companies and institutions rely on Bobrick solutions to reinforce their brands, reduce long-term operating costs and position their organizations for a successful future. You will find a section dedicated to waste receptacles on their website.
Here are some examples:
American Specialties Inc. (ASI). The ASI Group designs, engineers, and manufactures fully integrated washroom accessories, partitions, lockers, and visual display products from one source. This includes waste receptacles.
Bradley Corporation. Bradley is one of the most complete and advanced manufacturers for commercial washrooms, and comprehensive solutions for emergency safety and industrial applications. Now in the fifth generation of the Mullett family, their continued commitment includes treating customers and employees like family. You will find 90 results when you search for "waste receptacle" on their website.
Rubbermaid/Technical Concepts. For 50 years, Rubbermaid Commercial Products has pioneered world-class product solutions that meet the challenging demands of commercial facilities while outperforming and outlasting the competition. Rubbermaid is proud to be the global leader of the commercial cleaning industry, delivering exceptional products.  Rubbermaid has 15 waste receptacles on their site.
Here are some examples:
Glaro. Glaro Inc. is a global industry leader in the manufacturing of fine metal furnishings that are found in both public and private spaces around the world. Focusing on engineering and design of a wide range of coordinated products, guarantees form and function regardless of how discerning customers may be. Glaro has over 10 model Series of waste receptacles.
Witt Industries. Witt Industries is a premier manufacturer of durable indoor and outdoor waste receptacles and site furnishings. Witt's indoor waste and recycling receptacles include a wide offering to complement nearly any professional, industrial or commercial location. Witt has a broad offering of indoor and outdoor recycling receptacles and a series of 11 ADA compliant waste receptacles.
Here are some examples:
Suncast Commercial. Suncast, a market leader for over 25 years, in high-quality resin, wood, and metal products made in the U.S.A. for commercial spaces. Suncast has a large selection of indoor and outdoor resin, metal and stainless-steel waste receptacles.
Busch Systems. Busch Systems, a direct source for customizable recycling bins and waste containers, has been a prominent designer and retailer of recycling, waste and composting containers for over 30 years.  Busch Systems is also the creator of the Resource Center, a ground-breaking recycling and waste collection analytics software application. Busch Systems has a variety of metal, powder-coated steel and HDPE waste receptacle.
UltraSite. UltraSite's brands of site amenities, shades, shelters, dog parks and outdoor fitness products, are the superior choice that provide a low maintenance, durable solution for any outdoor recreation location. UltraSite's commercial trash receptacles range in materials from: Thermoplastic coated trash receptacles, Powder-coated trash receptacles, Wood trash receptacles, to Recycled Plastic trash receptacles.
Wausa Made. For more than 60 years, Wausau Made is a trusted provider and pre-eminent manufacturer of architectural concrete, terrazzo and metal products. Wausa Made is a leader in innovative sustainable manufacturing practices of steel-reinforced concrete and coated-metal site furnishing in the nations. Wausa Made has a variety of waste containers in different shapes and materials including ADA compliant containers.