The Geberit Concealed Tank Toilet System: Blending Form and Function
There's a lot to think about when it comes to bathroom design. When remodeling a bathroom, decisions must be made such as the color scheme, whether to go with a shower-only or a shower-bath combo, and how to place tile and shelving. Arguably, the hardest part is making sure that all individual design decisions work together to complement the space.
"Space," not by coincidence, is the key word when it comes to remodeling bathrooms. Homeowners who are lucky enough to have roomy bathrooms will automatically have more flexibility with their design. But, if your bathroom is barely large enough to fit a toilet, a sink, and a shower, finding new fixtures that fit comfortably in the space might take priority over design.
The toilet is one fixture that takes up considerable room, depending on how and where it is placed. The tank and hardware take up space on the wall, while the pedestal can obstruct part of the floor. Bulky tanks and hardware can also clash with certain designs, especially if your end goal is a sleek, modern look.
Unfortunately, more hardware means that there's more to clean.
But, it doesn't have to be that way.
What if there was a way to take the toilet tank and pedestal out of the equation, and leave behind only what's absolutely necessary? Luckily, the experts at Geberit have already made it possible.
Simplicity and Style
The Geberit concealed tank toilet system solves the problem of bulky, unsightly hardware by installing the toilet tank behind the wall and removing it from view.
Geberit's Sigma and Omega concealed tanks are available for 2×4 or 2×6 stud wall constructions, and come with a concealed behind-the-wall tank, an actuator panel, and a fixture (the fixture is not supplied as part of the system, but is available in beautiful, versatile designs from many manufacturers).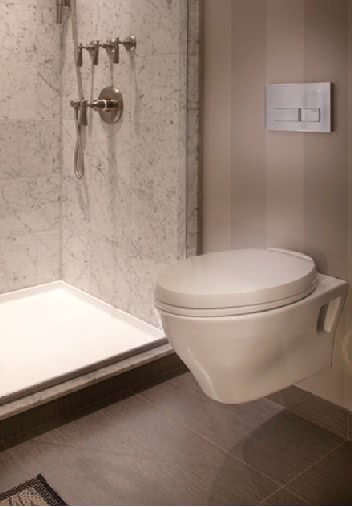 The only visible parts of the system are the toilet and the actuator panel, which come in a variety of designs. Everything else that you don't need to see is hidden.
As a homeowner, one of your first thoughts might be: "How will I access the tank when I need to if it's stuck behind the wall?"
No worries:  The actuator panel can be removed with simple tools, allowing access to the fill and flush valves and other internal piping when necessary.
As a result, the Geberit system frees up precious space where the tank would be on a traditional toilet, and leaves the floor beneath the seat clear. The result is a sleek, pristine look that complements a modern theme or provides flexibility for an innovative new design.
While good design is essential in a bathroom remodel, Geberit offers even more.
Raising the Bar
The Geberit concealed tank toilet system not only emanates style, but also provides convenience and comfort for people of varying needs.
Homeowners who desire a higher seat can benefit from Geberit – the system's adjustable height carrier can be installed 15' to 19' off the floor, which helps comply with ADA standards or simply provides more space for taller individuals.
Because the seat height can be adjusted, Geberit concealed tank systems are also ideal for aging in place and universal design. Extra height helps reduce some of the discomfort with sitting and standing that a lower, traditional seat can cause. While the fixtures might not look very sturdy, they are – the Geberit system supports up to 880 lbs.
As a bonus, using a Geberit concealed tank helps to conserve water. The dual-flush volume meets and exceeds high efficiency (HET) standards for water use.
What's not to like?
Do you have a Geberit toilet installed in your bathroom, or are you considering an in-wall system? Tell us about it in the comments section below.