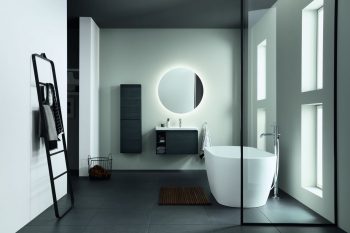 The Top 3 Bathroom Essentials to Consider Before Your Remodel
This blog was contributed by Duravit USA.
There's no question about it: the bathroom is one of the most important rooms in the home, whether we want it to be or not. Everyone in a home uses the bathroom, and despite varying needs with accessibility, there are elements that when carefully considered every member of the household benefits from. Three key areas to focus heavily on in your bathroom remodeling project include:
1. The Bathtub
A bathtub is a must-have fixture and often the heart of the family bathroom. A great bathtub can accommodate use from infants to adults. As the bathtub, at least during moments of early childhood, is a very wet environment (with playing and splashing), consider tiling the areas around the bathtub and/or the entire bathroom to enhance water-proofness and ease of cleaning. Into adulthood, the bathtub serves as a place of respite, poised to enhance everyday wellness and relaxation. From built-in to freestanding models, Duravit offers a solution for every space –even if space is tight, a compact 63″ freestanding model is a great option.
2. Hygiene-enhanced Fixtures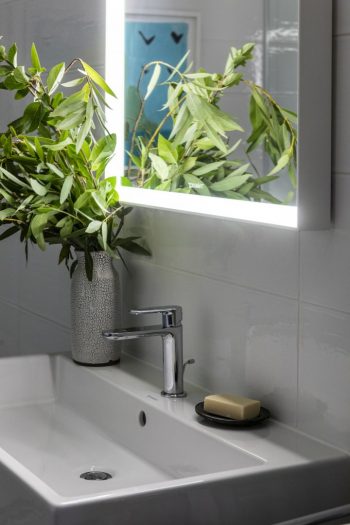 Hygiene is top of mind for most these days. From bathing to washing, adding hygiene enhanced fixtures to the bathroom space benefits all users. Duravit's HygieneGlaze technology, which can be added to a variety of toilets, is a great solution to consider as the glaze kills 99.999% of germs within 24 hours. Another hygienic-forward solution to consider is a shower-toilet. Featuring bidet functions within the toilet design, Duravit's SensoWash shower-toilet solutions bring an added level of both hygiene and wellness to the home. Wondergliss is a nice solution for ceramics, as it is a transparent glaze that can be added to washbasins and toilets to help dirt and limescale residue wash away more quickly and effectively. Finally, Duravit toilets with Rimless® technology feature a hygienic, open rim design that allows for innovative and efficient water flow. The result is a dynamic, powerful flush that rinses the entire inner surface, even with small amounts of water.
3. Storage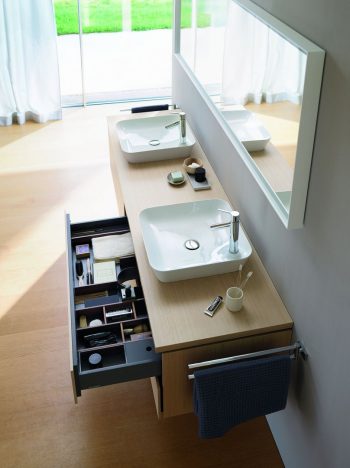 You'll never regret adding more storage space to your family bathroom! The accommodation of towels, extra washing/bathing supplies, lotions, toys, toothbrushes, toothpaste, extra toilet paper etc. is a must in an active home! Duravit offers an expansive range of storage solutions from open shelving to cabinets to vanities with drawers across its 16 furniture collections.
About Duravit 
Founded in 1817 in Hornberg in the Black Forest, Duravit AG is today a  leading international manufacturer of designer bathrooms. The company  is active in more than 130 countries worldwide and stands for  innovation in the fields of signature design, comfort-enhancing  technology and premium quality. In cooperation with high-profile  international designers, such as Philippe Starck, sieger design, Kurt  Merki Jr., Christian Werner, Matteo Thun and Cecilie Manz, the company  develops unique bathrooms that enhance quality of life for users on a  sustained basis. Duravit's product portfolio comprises sanitary  ceramics, bathroom furniture, bathtubs and shower trays, wellness  systems, shower-toilets, tap fittings and accessories as well as  installation systems. Duravit USA, Inc. headquarters are based in  Duluth, GA.