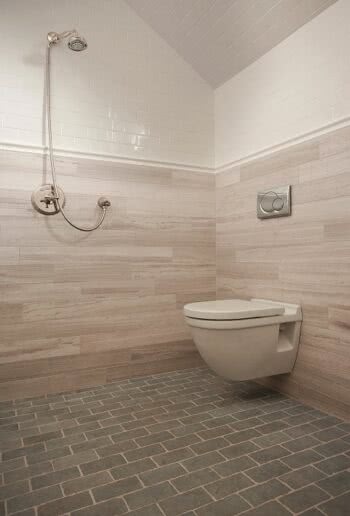 Today's Baths are all Wet!
Wet room designs meet today's needs while addressing tomorrow's aging-in-place requirements.
Today's aging adults, including older Baby Boomers, have differing needs than generations that came before them. More and more, adults want—or need—to stay put in their homes longer. In the meantime, these homeowners want to live life fully and in style.
Wet room designs—which typically replace tubs with barrier-free showers—are becoming more popular. Not only do wet rooms accommodate future lifestyle changes, they also offer great practicalities for where homeowners are now in their busy lives and for those who simply prefer to keep cleaning as easy as possible.
The design options are also endless.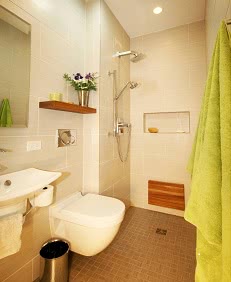 Geberit Concealed Tank and Carrier Systems, which enable wall-hung installation of toilets and sinks in new construction or renovation projects, are perfectly suited to wet room concepts. As opposed to floor-mount toilets, wall-hung systems are ideal for wet room designs because they improve access, are easier to clean and keep the floor clear. Plus, some of these systems offer water-saving dual-flush operation (1.6 gpf for a full flush or a reduced flush of 0.8 gpf)  to appeal to homeowners' eco-mindedness.
"The planning for aging-in-place ties into the bathroom," says Stephanie Horowitz, architect at ZeroEnergy Design, a green architecture and mechanical design firm in Boston who designed an eco-friendly Concord, Mass., home.  "The bathroom (shown in right photo) is designed for zero clearance, so you can roll in a wheelchair if necessary. The entire room is designed like a shower  stall, and the wall-hung toilet was a great fit because it can easily be cleaned. The water flows right underneath."
The wet room is ready for the future, yet has already been put to good use. "It's incredibly practical on a first floor application next to our mud room," says homeowner Lisa Kauffman Tharp, who is also an interior designer. "You can put all the muddy boots, wash the dog, clean the recycle bins, and you can have guests take a shower."
Susan Klimala, a designer with The Kitchen Studio of Glen Ellyn (IL), also incorporated a Geberit Concealed System into a wet room design, albeit for a different reason. Space was extremely limited in her client's historic Chicago-area home, which only had one full bath and a powder room. The Kitchen Studio added a bathroom by converting two closets, yet space was still at a premium (see http://goo.gl/TQ8TzU).
"Since we were faced with a very limited amount of space, the first step was to get everything up off the floor to allow for a more spacious feel," explains Klimala. "We added a small bump-out into the adjacent room to allow for proper clearances. Borrowing from a wet room concept, we used a wall-hung toilet and vanity with a curb-free shower to create a sense of space inside the room."
The bathroom, shown in the left photo, reflects the homeowner's design aesthetic, while using space wisely. 

*Sponsored post