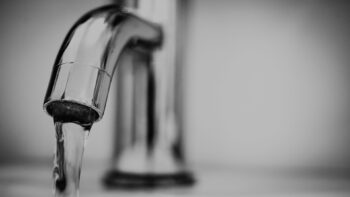 "Turning On" Accessible Faucet Design
When it comes to designing accessible, ADA-compliant restrooms, the faucet is one of the most important pieces in the puzzle. In order to better serve those with limited mobility, faucets should be easy to reach, free from obstructions and easy to turn on and off with minimal force. The 2010 ADA Standards for Accessible Design outlines the requirements for making faucets ADA-compliant by meeting the guidelines in Section 309 of its documentation. These guidelines include:
309 Operable Parts
309.1 General. This guideline states that operable parts of the faucet must comply with 309 (the current guideline of discussion).
309.2 Clear Floor Space. This guideline states that the clear floor or ground space must comply with Standard 305, which states that there must be 30" minimum by 48" minimum of free space.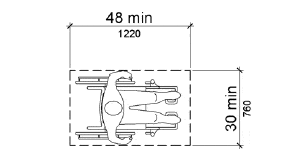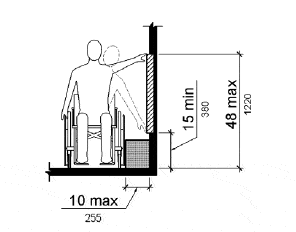 309.3 Height. This guideline states that operable faucet parts should be within one or more of the reach ranges outlined in ADA Standard 308. Standard 308 specifies several ranges, including 15-48" above the floor or ground for an unobstructed forward reach, an obstructed high forward reach of 48" maximum for a reach depth of 20" maximum, or if the reach depth is greater than 20", a high forward reach of 44" maximum. This means that the faucet should be no higher than 48" off the ground if the area is free of obstructions.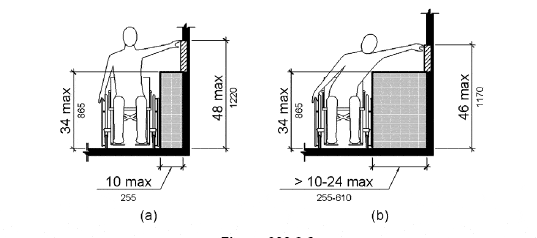 To meet the side reach requirements specified in ADA Standard 308, if the reach permits a parallel approach and the floor is unobstructed, the high side reach should be 48" maximum and 15" minimum above the ground. If the high side reach is over an obstruction, the height of the obstruction should be 34" maximum and the depth 24" maximum. The high side reach itself should be 48" maximum with a reach depth of 10" maximum. If the reach depth is larger than 10", the high side reach must be 46" maximum by 24" maximum.
309.4 Operation. In order to meet standard 309.4, the user must be able to operate faucet components with one hand, without having to resort to tight grasping, pinching, or twisting of the wrist. Some types of faucets that may meet this standard include Lever, touchless, wrist blade and cross handle faucets. The force required to activate faucet components should not be greater than 5 lbs. Gas pump nozzles are an exception that do NOT require a maximum of 5 lbs. of force for operation.
If the faucet is activated by motion-sensor, the water must flow for at least 10 seconds.
Often when specifying faucets for ADA restrooms, the wording is general such as "provide ADA compliant faucet." ADA faucets are most often specified under the Plumbing Division. Sometimes the specifications state a specific manufacturer or manufacturer list. At this writing, there were 1,445 projects for this year in ConstructConnect within the Plumbing Division that specified ADA faucets. Although many contain a specific manufacturer(s), the there is room for product manufacturers to become a basis of design or position their faucet as THE ones for ADA restrooms.
Manufacturers
Now that you are aware of some of the guidelines that ADA-compliant faucet installations must follow, here are some manufacturers that produce high-quality faucets for ADA restrooms:
American Standard. American Standard has a legacy spanning 140 years as a premier North American manufacturer of plumbing and building products. American Standards manufactures faucets, sinks, whirlpool tubs and many other high-performance fixtures for the kitchen and bath. See their selection of ADA-compliant bathroom faucets, including the Studio S Widespread Bathroom Faucet on their website and below. Plus…
Moen. As a leading American brand, Moen offers a diverse selection of thoughtfully designed faucets for the kitchen and bath, as well as ADA-compliant bathroom faucets. See Moen's full selection, including the Graeden Two-Handle High Arc Bathroom Faucet on their website and below:
Delta. Delta is a leading innovator in the bathroom and kitchen space, with numerous products to meet the demand for ADA-compliant restrooms. Delta is committed to making products that save water and has been awarded and recognized by the EPA WaterSense program. See Delta's Two Handle Widespread Bathroom Faucet with ADA-compliant lever handles and their Single Handle Project-Pack Bathroom Faucet.
Chicago Faucets. Chicago Faucets has been America's leading manufacturer of commercial faucets for over a century. With unparalleled quality and attention to detail, Chicago Faucets' offerings, including the company's ADA faucets, are ideal for a variety of settings.
ZURN. Zurn has been a leading company in providing innovative water solutions since 1900. Zurn aspires to protect human health and the environment and is committed to offering safe and efficient products.
T&S Brass. T&S Brass is a leading manufacturer of faucets, fittings, and specialty products for the commercial and industrial markets. In business for over 70 years, T&S has a wide range of high-quality products that meet ADA standards.
Grohe. Grohe products are made with the company's commitments to technology, design, quality, and sustainability at the forefront. The use of high-precision engineering results in products of unparalleled quality, including products in the ADA category.