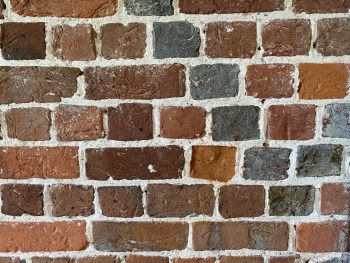 What I Learned Going to Charleston, SC
By Jim Nowakowski
(special to KB-Resource)
I had to travel to Charleston to give two presentations to the ASID Carolinas annual meeting. KB-Resource.com asked me to document the trip, and also to give some of the content from those presentations for your review.
---
We (my wife and I) stopped halfway to Charleston in Jacksonville, FL on the way to the ASID event. We stayed at the Hilton Hampton Inn downtown and grabbed dinner at The Southern Grill. This was a great experience (we had the grouper) with self-service and a pleasant atmosphere. We also got 10% off for telling them we were staying at the Hampton!
We journeyed to Charleston the next day and stayed at the 4-year old Homewood Suites by Hilton, which was where the ASID Carolinas event was going to be held on September 9. The room was good, clean, and the service adequate for the four days we stayed[1]. The breakfasts were good too.
Trapped in Charleston
The day we arrived we had dinner at The Brick restaurant and sports bar – excellent burgers. The night before we left, we went back for a sandwich. "I appreciate you," said the waitress who served us on both visits, as we did her and the service she provided. She was from Colorado and moved here with her dog when COVID hit. Her friend said, "Why not come on down." So, she did. She hates the humidity and heat, but doesn't have any plans of returning to her home state or leaving. "I'm trapped," she said. She was attentive and friendly despite the humidity.
Touring History
The day before my presentations, we did a couple of tours. The first was to Patriot's Point. We got a ride from Bill (recommended by the hotel) who had a deep, eastern European accent. "I'm from Georgia," he said gruffly. "Do you know where that is?" I suspect he thought I would say the next state over, but I said "Yes, it's around Russia and Turkey. My grandfather was from Poland." He said, "Jak się masz?" I replied, "Dobrze." "You speak Polish?" "No," I told him. "I lost it after the first grade." We had a nice conversation going and coming, and he was going to Ohio to visit his relatives later that day.
Warships
A publisher friend and patriot recommended visiting Patriot's Point. There, they have the USS Yorktown and the USS Laffey docked. The Yorktown is an aircraft carrier, and the Laffey is a destroyer.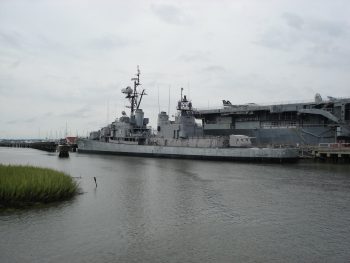 The Laffey was known as the ship that wouldn't die. While operating off Okinawa, Laffey was attacked by 22 Japanese bombers and Kamikaze, killing 32 and wounding 71 of the 336-man crew. The crew shot down 9 Kamikaze aircraft and saved the damaged ship earning her the nickname: "The Ship That Would Not Die." You can experience that event onboard in the walking tour of Laffey, with recordings, visual effects – everything you will need to understand what these people gave up for our country. A moving experience to say the least. And the small spaces these men fought in – remarkable. What they did, how they did it, leaves you in awe.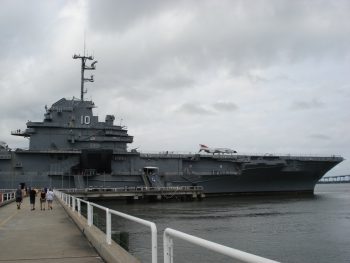 The Yorktown also had walking tours, with aircraft parked on the upper deck (and below). The tightness their rooms also made you wonder how men existed together in such close quarters.
In any case, it brought to light what seems to me to be missing in this country today: the idea of duty to the country before your own personal safety. Sacrifice. Incredible courage.
Drayton Hall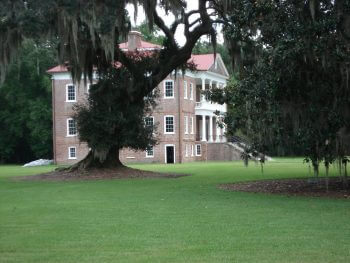 In the afternoon, we toured the Drayton Hall. This plantation was one of three recommended by one the managers at Homewood who walked around the breakfast tables pitching Hilton properties. He knew a lot about the area having lived there all his life.
This was a disappointment. Unlike other homes (i.e., the Breakers in Rhode Island), this home was totally empty of furniture. The tour guide (Taylor) who was excellent said that the decision was made to preserve, not restore. They did everything they could to keep things as they were.
It was small (again, compared to other homes I've visited). Perhaps the most interesting thing was the door with graffiti on it. The guide didn't know who did the artwork.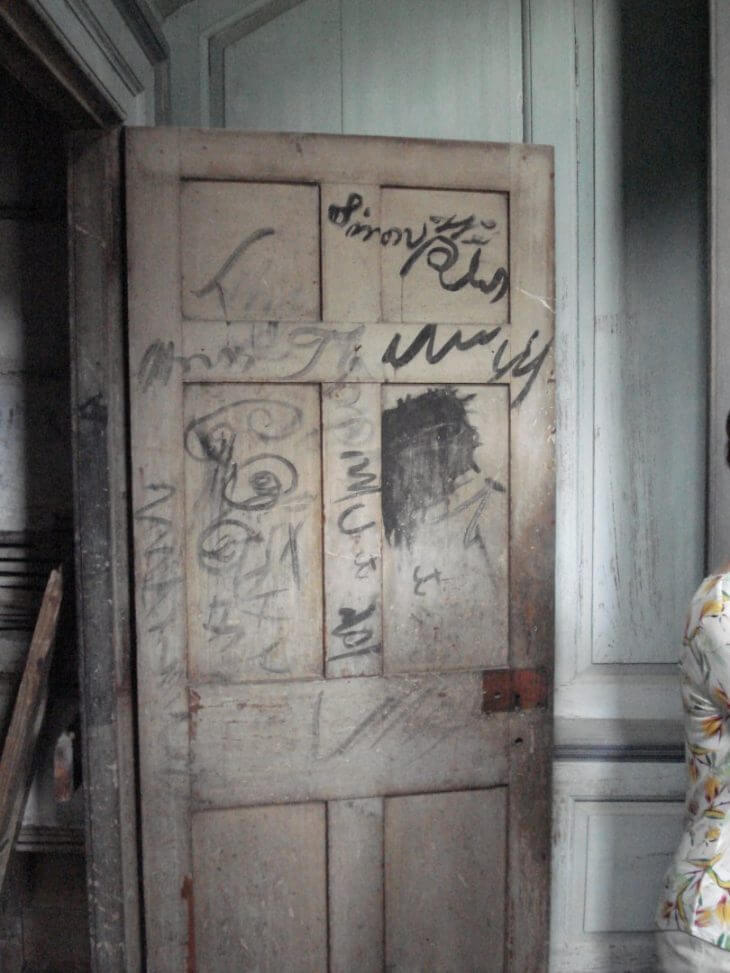 We ate at Felix restaurant that night and, as it was the beginning of restaurant week, had a chance to taste several different dishes. It was excellent.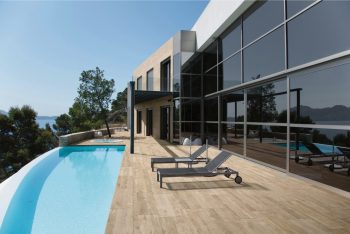 The following day were my presentations at the ASID event. I always like to get a feel for the audience, so I attended the CEU before mine, Form and Function of Porcelain Pavers for Outdoor Applications by Dan Rymiszewski from Del Conca USA. It was a great presentation about tile with all of the features, functions and benefits of the product (i.e., stain resistant, chemical resistant, etc.). He showed where it is manufactured, and the process involved, touching on its sustainability. "It's really an outdoor living room," he said talking about what the tile can do. The installation sits on top of a spacer system. You can reach Dan at [email protected], or Melcer Tile's Camille Wingate at [email protected] who reps them in the Charleston area.
Staying in Front of Your Customers with Social Media During and After COVID-19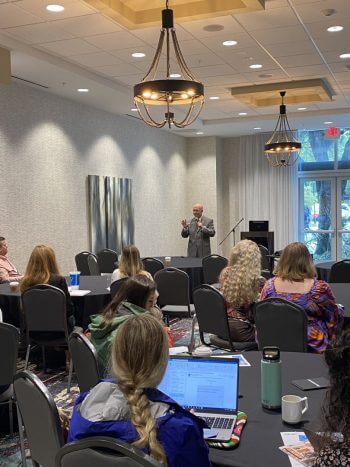 My session on social media was next. It was comprised of 40 slides that talked about how to be careful of the social platforms…that the designer's website is more important than Facebook or Instagram.
The theory here is that you want to own the eyeballs, and that everything should lead to the most important social media hub on the internet: your website. It was a terrific session, with the audience involved in a dialogue, not just a monologue.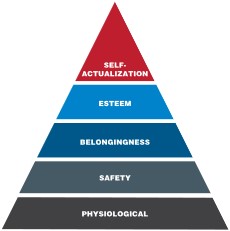 I used Maslow's hierarchy of needs to talk about the basic difference between social media philosophies: that is,
It's not about you, it's about them.
Or…
It's not about them, it's about you.
There is a profound difference in these approaches, as the first one keeps your audience in mind, and the second puts you ahead of your customers.
The presentation also folded in branding, and how important it is to keep your brand in front of people. An earlier recorded version of this presentation is on our website: https://interlinegroup.com/ceuscourses/c6/course.php. It's AIA, IDCEC and NKBA approved.
Lunch Keynote and State of the Chapter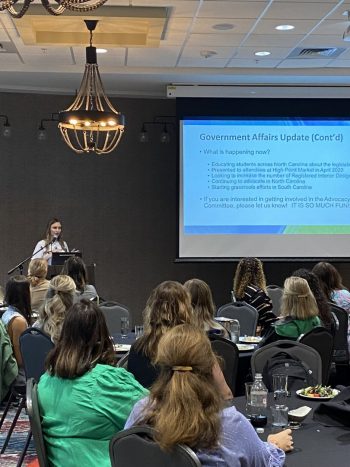 Nicole Edwards gave the state of the chapter address before introducing the keynote speaker. The ASID Carolinas is comprised of 24% professional membership, 6% associates, 29% students and 41% allied to the field.
Perhaps the most important part of her presentation was how ASID was responsible for interior designers to now to get their own "stamp of approval." 36 states have their own laws dictating the what an interior designer can and can't do when altering a structure. Mostly an architect or engineer's approval was required.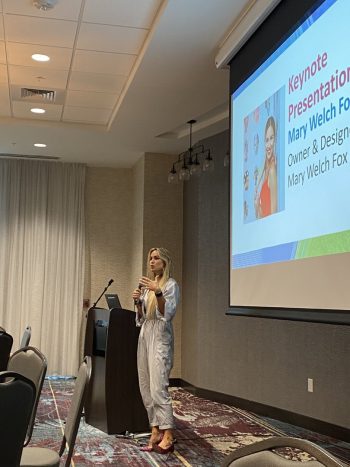 However, ASID is involved in expanding registered interior designers' practice rights. So far, ASID's efforts have been successful in North Carolina, Oklahoma, Wisconsin and Illinois. Edwards pointed out that the fight goes on!
The keynote speaker was Mary Welch Fox Stasik of Mary Welch Fox Design. Host of HGTV's: Breaking Bland, she gave an inspiring talk about her journey to success, which like many journeys, is fraught with obstacles that a person has to overcome. "How do you do better the next day," was her message to the audience, which she showed through an incredible demonstration of endurance and fortitude.
A Designer's Blueprint for What People Want in Their Homes
My session in the afternoon was about what people want in their homes, which was based on research conducted by Accountability Information Management, Inc., a leading unique research company (www.a-i-m.com).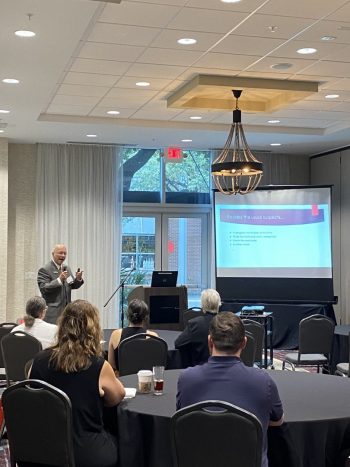 The research was based on over 400 consumer responses to what they had in their home, and what they wanted in their home. Unlike traditional research – which typically talks about kitchens, bathrooms, and the other rooms – AIM's research did this and more.
Specifically, they looked at what people have in their home, and what they wanted in their home, and looked at the difference between them.
For example, the most wanted room in a home was the laundry room, which you don't see anyone leading with. But it was the one that they had in their home. However, if you look at the trends in multi-generational living, it makes so much sense because there are more clothes to wash! Of course, they want a laundry room
However, the real insight came from the other rooms where people didn't have them but wanted them! For example, wine cellars. Wine Cellars was the highest category in terms of the DIFFERENCE between what people want in their dream home compared to what they have in their current home (588%). How is that possible, especially when research by NAHB notes that over 45 percent of consumers are unlikely to buy a home if it comes with a wine cellar (48 percent). Then what accounts for this difference?
I suggested in my presentation that it depends on how you define a wine cellar, and showed numerous images of what they might be (including built below a staircase, or a big refrigerator). Besides, since the year 2000, wine consumption in the U.S. has gone up in a steady incline. And while no designer leads with "do you want a wine cellar in your home," taking that into consideration (regardless of income level by the way) is important in assessing what your client wants.
Other "differences" included outdoor kitchens, (490% wanted it who didn't have it), steam showers (a 411% difference between having it and wanted it) and full bidets in the master bathroom (a 248% difference). There are many more room considerations, and they all make sense if you think about the world today (i.e., NAHB reports that an outdoor kitchen is rejected by many consumers).
I made the point that every designer has to access the conditions themselves carefully. AIM was kind enough to offer a copy of their comprehensive report (40 pages) upon request. Just go to www.a-i-m.com/asid and fill out the short form.
The presentation was a great dialogue with the designers, who asked great questions. And the overall event was, in my opinion, a huge success.
I'd like to thank ASID Carolinas for inviting me to speak, and KB-Resource for allowing me to write this post about my experiences. Special thanks go to Sandy Hower, the Administrator, Carolinas Chapter – ASID for coordinating the presentations and the room, and Melanie Congdon, Allied ASID Designer/Studio Coordinator for jbanksdesign.com who found me!
If you need more information, please contact me directly [email protected], or call my office at 847-358-4848.
---
[1] Like most hotels, we received a follow up survey via email for comments on our stay, and after responding, I received a personal email from the assistant manager. "Thank you for your recent stay at our hotel! I hope you felt at home. We are certainly glad to hear the positives outweighed the negatives. We would like to hear what the negatives are, if you would like to share. We always want to ensure guest satisfaction and want to know the areas that need improving. We hope that you will come back to stay with us again in the future." You don't often get this type of request, so I was happy to answer. I said this: "Thank you for your email. Negatives are always "little things." Coffee throughout the day that is fresh. Trash in the hallways all day long that make the walk to the room awkward. For example, asking about coffee, we're told by someone at the desk, "There's a coffee maker in your room." If we wanted to make coffee in the room, we would. Room coffee isn't hotel coffee and hotel coffee isn't Starbucks. When we come back to the room in the evening and go down in the morning for breakfast, the trash in the corner is still there. Maybe having someone walk the floors once at midnight picking up trash would solve that problem. These are little things, and as you saw in my comment, your people I mentioned are excellent in service. Compared to other properties you are B+/A-. But that's just me.  Thanks for asking; most people don't. I will stay if we return to Charleston, and I will blog about my trip as I stayed there to speak at the ASID event you had going on that Friday."
Editor's Note: