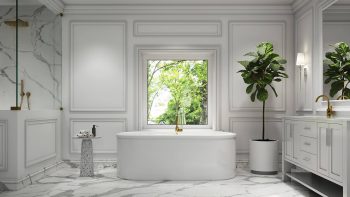 Americh Brings Novelty and Innovation to Freestanding Bathtub Market
North Hollywood, CA– Americh, the Made-in-the-USA manufacturers of bathtubs and shower pans for residential and commercial use, continues to set its design sights on the freestanding bathtub niche. With the introduction this past year of new tubs and upgrades to existing lines, Americh remains confident that it is meeting the needs of the market.
"Among the many challenges of the past few years has been the desire to create and introduce new and innovative products while making sure we are still meeting the needs of our customers for on-time, quality products. We love the creative process as much as we love making beautiful, custom products for our customers," states Kim Frechette, National Sales Manager of Americh.
Supply chain and logistical issues notwithstanding, Americh's lead times remain steady – with 6–10-week lead times for their freestanding collections depending on the style.
Here are some of the tubs they have introduced over the past year – including one of their most innovative – a texturized finish on solid surface.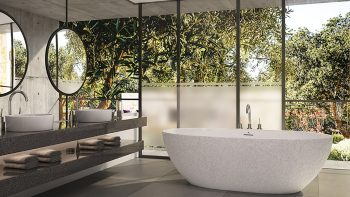 Textured Tub
The texture was inspired by the works of American artist Jackson Pollock. Americh applies their interpretation of his famous abstract designs onto any of the baths in the ROC Collection. The effect is a beautiful, tactile, usable work of art.
---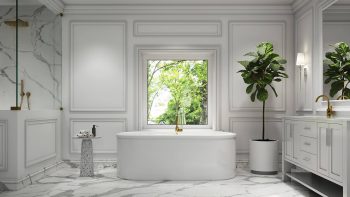 Darlington
Darlington offers a classic contemporary design. It has a roomy interior with a trim, simple exterior that will blend well with a wide variety of personal design preferences. Darlington is available in all Americh standard colors with dual color option available.
Dimensions: 66"x 32" x 23"
---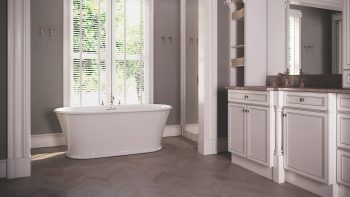 Somerset
Somerset is Americh's newest ROC freestanding soaking tub. It is reminiscent of a Greek style carved stone bath. Beautifully sculpted solid surface oval tub with a rolled rim and a modern pedestal base. Center drain and two curving backs allows for the option of two bathers. The mineral cast solid surface has a glossy finish. Integral drain adds to the modern architectural design.
Dimensions: 64" x 33" x 21"
---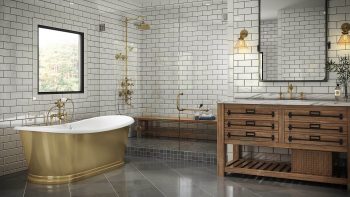 Sawyer in Brass
Sawyer has a smooth brass exterior and a white acrylic interior. This tub will add beauty and grace to a traditional style bath or a retro vibe to a modern style bathroom. The bathing area of 53″ x 19″, center drain and two backrests allows the option of two bathers lounging face-to-face. The brass exterior is perfect for trending bathroom styles.
Exterior dimensions: 71″ x 31″ x 26″
Click here to view Americh's extensive collection of freestanding bathtubs.
About Americh
For more than 35 years, Americh has been designing and manufacturing bathtubs for residential and commercial markets. With facilities in North Hollywood, CA and Charlotte, North Carolina, Americh has been a true "Made in the USA" manufacturer from its inception. The brand epitomizes American ingenuity, utilizing best practices in manufacturing coupled with the desire to offer an extensive breadth of styles from timeless and classic to contemporary bathtubs imbued with European influences. The brand's broad palette of colors and almost infinite number of size options makes them unique in the industry. The products are distributed and sold through kitchen and bath showrooms across North America.