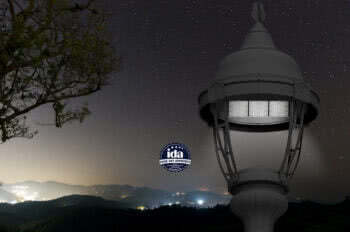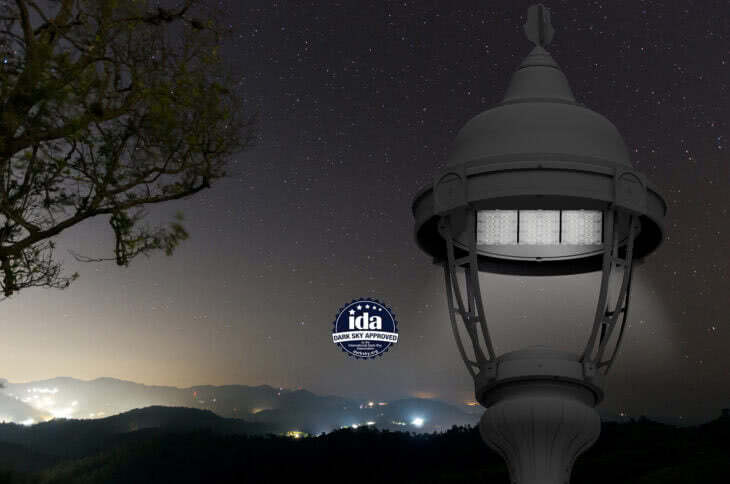 Amerlux's New Luminaires Make Stars Twinkle at Night, Reduce Light Pollution
OAKLAND, N.J. – Amerlux, an award-winning design-and-manufacture lighting company, announced today that it has released the newest addition to its dark sky-friendly family of LED luminaries, providing developers and municipalities with stylish solutions for effectively curtailing rampant lighting pollution and costs.
The new DS770FC Series is a set of traditionally styled, post-top fixtures that can be specified and used in place of typical acorn-styled luminaries, which offer little in lighting control and typically have a large amount of wasted up-light. The decorative DS770FC post-top luminaire alternatively utilizes fully shielded optics to minimize glare while reducing light trespass and unwanted skyglow. Each solution has been approved by the International Dark Sky Association (IDA), the recognized authority on light pollution and the leading organization for combating light pollution nationally.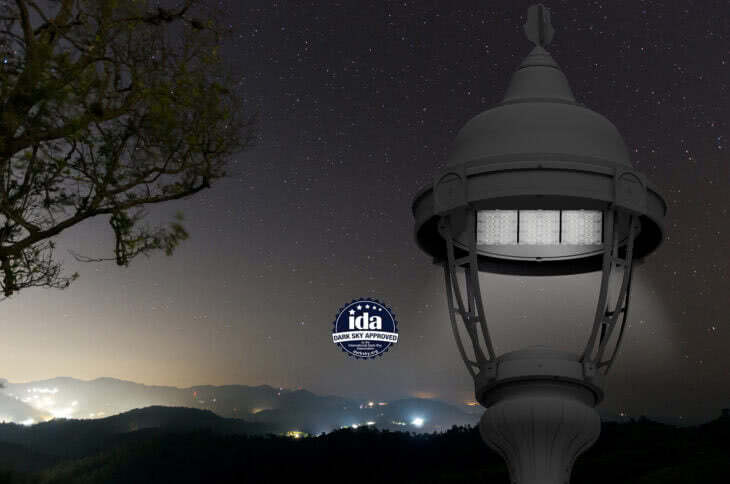 "As more local governments pass ordinances to reduce light pollution, Amerlux has responded to this concern by releasing a revolutionary set of IDA-approved luminaires that have no outer lens to redirect light up, making it more efficient at putting light where it's needed," said Bill Plageman, Amerlux's VP of Marketing. "Our dark sky-friendly solutions effectively do what traditional exterior luminaries cannot: shine the right touch of light on the right spot at the right time."
Aside from losing out on the wonders of a natural nighttime light show, consider a snapshot from the IDA on how lighting pollution hits our collective wallets:
About 30 percent of outdoor lighting in the U.S. is wasted, mostly from lights that aren't shielded.
$3.3 billion in energy costs is squandered from wasted outdoor lighting.
Approximately 21 million tons of CO2 is annually released into the atmosphere from wasted exterior lighting—an amount that would require 875 million trees planted each year to offset.
The DS770FC—a stylish, cost-effective solution for any exterior commercial site lighting or municipal roadway project seeking a performance-driven, architectural-grade post top luminaire—provides the following intensity, distribution and color features:
Four unique fitter options.
Six output levels.
IES Type II, III, IV or V distributions.
3000K and 4000K, with 3000K required to be IDA Dark Sky Compliant
An optional integral wireless node allows the fixture to operate on the SmartSite connected lighting system powered by the Synapse.
About Amerlux
Amerlux creates bold lighting solutions that add warmth and brilliance to the world. The design-and-manufacture company builds long-term relationships with architects, facility managers and lighting designers by taking every complex problem personally. Its award-winning portfolio includes innovative interior and exterior lighting products that deliver striking aesthetics and rich performance through advanced engineering. Amerlux is a wholly owned subsidiary of Delta Electronics. For more information, please visit Amerlux.com or call 973.850.4342.