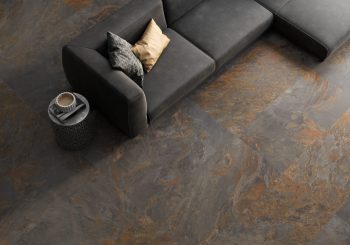 Argenta Cerámica Highlights Ceramics as a Major Interior Space Trend in 2023
Interior essence, vivid colour, the luxury of simplicity and dark sober tones are some of the spaces the ceramics firm proposes for living and dining rooms in 2023.
The Essential Tile Meeting, a unique international event, will showcase the latest design trends in which ceramics are the common thread.
Our home is the living space where we meet together and spend most of our rest and leisure time. Living rooms and dining rooms head the list because that is where we seek moments of wellbeing when we can finally switch off.
Argenta Cerámica has carried out an analysis of current lifestyles and trends in habitat and design. As a result, it is proposing ideas in which living rooms, dining rooms and other private places are the epicentre in combination with ceramics.
Interior spaces full of natural elements, vivid blues for everyday life, dark colours for more sober living rooms, luxury connected with simplicity, continuous floors and comfort as a priority, are some of the concepts of ceramic spaces that can be seen first-hand at The Essential Tile Meeting, an international event.
During the meeting, which will start on 20 February, visitors will be taken on a customised tour in which experience and the human touch are the differentiating factor. Argenta has prepared a series of guided tours for its guests, ranging from a tour around the new design spaces in the showroom to visits to the new Factory 5 in Vall d'Alba, one of the most technologically advanced production plants in the Spanish ceramics sector.
A little piece of nature and craftsmanship in our home.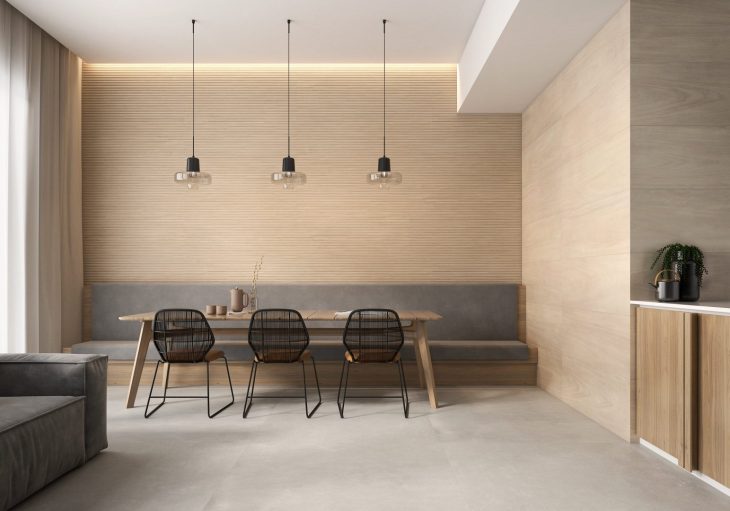 Every day we need to connect with nature a little more. And so we see how our homes are becoming part of it in a special way. Argenta proposes a spacious dining room in which everything is inspired by natural elements. The result is a space that brings us calm and wellbeing, and wood-inspired ceramics are the key to it all.
Everything in this cosy, contemporary space is related to ceramics: the choice of table, the upholstery, the curtains and the chairs.
The Marlen series, a 7 mm thin material in 40×120 cm format, is used for the floor tiles. It is also combined with its own Marlen Slat relief, a piece with volume that reproduces continuous horizontal lines on the entire wall as if it were carved wood. A ceramic piece that reminds us of our artisanal craftsmanship that we invite into our homes to bring us a little piece of nature.
For lovers of luxury and wellbeing.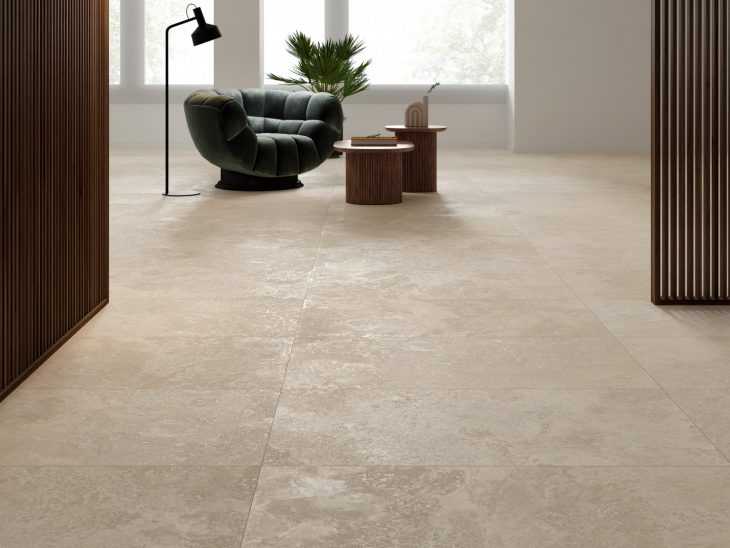 Argenta Cerámica has designed this spacious living room as a place of sophistication, luxury and great comfort. An atmosphere of calm and wellbeing is achieved with the use of light and continuous flooring in a neutral shade. It is designed to be lived and enjoyed at every moment, always with elegance and uniqueness.
A large window allows natural light to enter the room and an exclusive sofa brings us rest. It is a unique and simple space imbued with sophistication and great personality. Siena, one of the new Artech series, has been used in the project. It is a reproduction of marble in 60×120 cm porcelain tiles, a highly expressive material that vibrates with the reflection of direct light.
Feeling good amid the expressiveness of colour.
Argenta has designed a spot that is filled with energy, and harmonious at the same time, through the combination of a vivid ceramic blue colour on the wall with a neutral shade on the floor. This space is designed for those who are looking for a touch of intensity every day to awaken their emotions and enjoy every moment. Blue transmits energy and positivism, but it also allows us to connect with nature.
The Vogue collection is used as wall tiles for the entire wall of the public area. It is the perfect wildcard to combine with the company's other collections. A retro-style table lamp and a leather armchair add a touch of exclusivity to the space. Vogue is a collection that comes in non-reflective, matt, thinner tiles, available in 6 shades.
The sobriety of dark, material shades.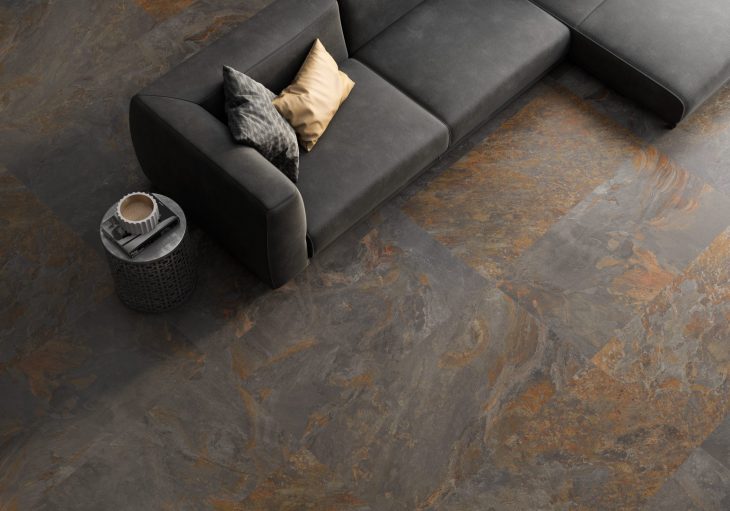 In contrast to other brighter proposals, in this living room Argenta has created a sober atmosphere achieved with the use of dark-toned ceramic flooring, the Courel series. This is inspired by natural slate, as if it had been extracted from the quarry itself.
Dark colours have arrived in force in interior design, and today they cover both floors and walls. They are used in large spaces and areas that receive plenty of natural light to achieve a contrasting effect.
Courel is a porcelain floor tile that is part of the new Artech collection. It seeks essence and achieves it through its material realism and in every detail of the piece. It comes in the 60×120 cm format.  In this space it is combined with furniture that is also dark to lend a sober and elegant touch.
Ceramic harmony and contemporary sophistication.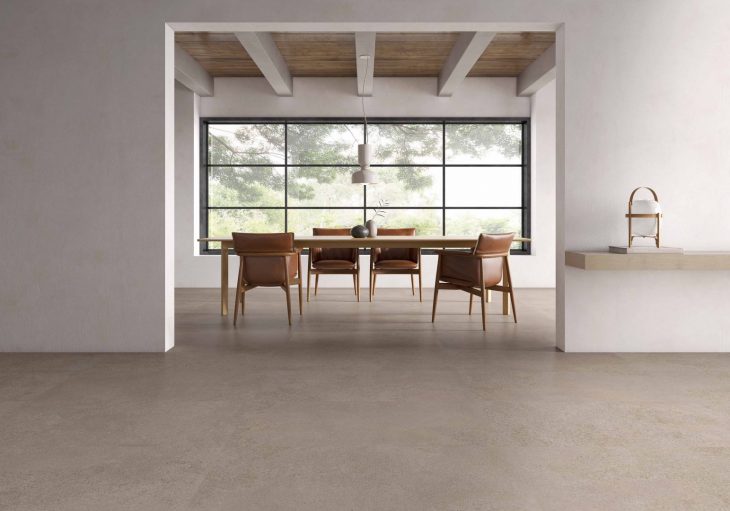 This dining room is a space that perfectly connects luxury with nature. A contemporary atmosphere is achieved with the use of the Geneve series, a sandstone ceramic floor tile with a neutral tone that reproduces natural wear and tear.
Large windows, an element that emerged in modern architecture in the first half of the 20th century, flood the space with light, allowing a glimpse of the sinuous details of the ceramic flooring. Here the details are key to achieving the desired elegance. Sophisticated furnishings add the finishing touch to the space.
About Argenta Cerámica
Argenta is a renowned Spanish company that specialises in the manufacture and marketing of all kinds of ceramic wall and floor tiles for architecture and interior design. It has a wide range of products, finishes and formats from the largest measuring 120×260 cm with a thickness of 6 mm, to smaller-scale products such as 15×15 cm and 6.5×20 cm.
Argenta stands out for its constant investment and is equipped with the latest technology in all of its manufacturing processes. It is committed to innovation, quality and customer service. It currently has five production plants and four logistics centres and markets its products internationally in more than 100 countries.