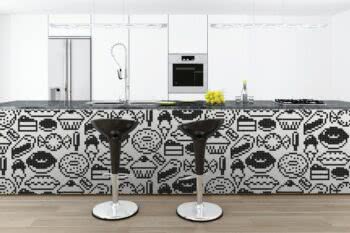 Artaic New Vitreous Glass Sizes Allow Modular Capabilities
Boston, MA — Artaic is excited to announce the launch of the GLYPH Collection, which features playful, communicative designs, and bright graphic icons. The collection takes a modern approach to the ancient concept of "Hieroglyphics" — showcasing simple images that tell a detailed narrative. Inspired by the properties of Artaic's newest innovative tile line, Vitreous Glass in 1" and ½" tile sizes, the collection can be custom fit to any wall, floor, ceiling, pool, or exterior facade.
While all of Artaic's designs are offered in a wide range of materials including Sintered Glass, Glazed Porcelain, and Natural Stone, the GLYPH Collection was developed specifically to feature the 1" and ½" size tile from Artaic's Vitreous Glass line. This high-quality Italian-styled glass is now available in a versatile new geometry that allows for modular capabilities and captures beautiful detail.
The collection also offers an unparalleled color palette with a selection of more than 180 colors. With the ability for the shades to be mixed and blended to create a perfect color match, the customization possibilities are endless.
"Our Vitreous Glass line featuring the new 1" and ½" tile sizes is a game-changer for industry standards, as it allows a more seamless design process than ever before," says Ted Acworth, CEO and founder of Artaic. "Through the GLYPH collection, we are able to expand our offerings with the depth of color choice, while also providing clients an avenue to easily match walls to floors and other surfaces to create a stunning modern style that makes any setting a showstopper."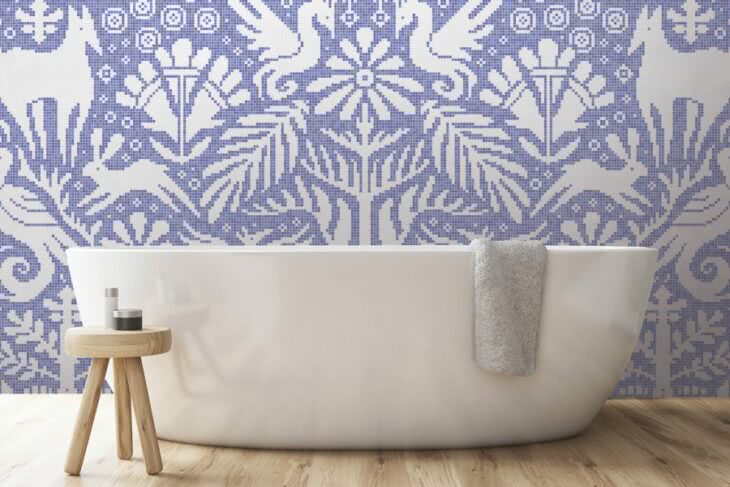 Clients have the option to choose from the GLYPH Collection's designs including Lore, Tropic, Metropolis, and Pooch in a plethora of colorways, as well as Storytime, a collection of customizable graphic icons. Using the Storytime category of designs, clients have the opportunity to create completely new icons to illustrate the story of a unique personal or commercial brand, in which custom capabilities are offered every step of the way.
The Artaic design team digitally renders the imagery for each mosaic, then transforms the concept into its final form — a mosaic masterpiece. The brand continues to create award-winning mosaics that can be found around the globe, enhancing the design of spaces large and small. To learn more about Artaic, please visit www.artaic.com.
About Artaic
Artaic uses robotic technology and innovative design tools to customize, design and fabricate award-winning mosaics. By combining modern technologies with this historic art form, the Artaic team is passionate about the creation of architecturally compelling mosaics for any size project, from small to large-scale production. Through fast design iterations, custom sampling and robotic production in Boston, the process of true customization is seamless. Artaic's Tylist™ software enables their skilled in-house design team to easily collaborate with clients on the creation of modern mosaics. This unique manufacturing process increases design flexibility and decreases lead times and costs. Artaic is a unique and compelling resource for modern designers and architects.