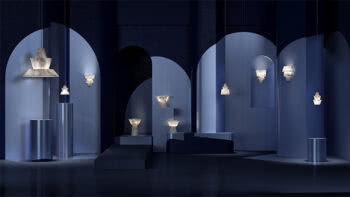 Atelier Alain Ellouz Introduces ICONIC, a new family of alabaster lighting elements in a full range of designs
ICONIC is a brand new concept offering a family of lighting elements from Atelier Alain Ellouz. It aims to bring unity and consistency in terms of style, material and design to a project by paying tribute to contemporary architecture, from which it adopts all the codes. This family of lighting elements plays on different constructions based on basic, unconventional, conical forms sculpted from alabaster stone. As a set offering cohesive style thanks to shared contours, ICONIC comes in four distinct designs, LAB, FLO, PLI and GAMA. Each one of these designs presents different types of lighting in a variety of formats. This full range of elegant lighting elements is designed for both hotels and homes, adding the perfect note to any type of interiors, from the most classic to resolutely contemporary styles.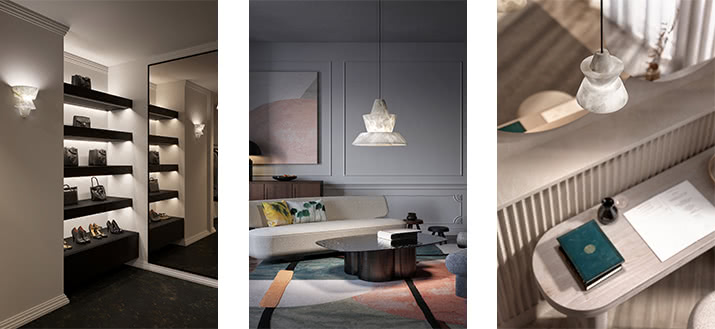 ICONIC LAB
Iconic LAB offers graphic geometry with its three cones in dissimilar volumes. It's a perfectly proportioned, harmonious alabaster composition. LAB exists in wall lighting as well as in small or stately pendant lights.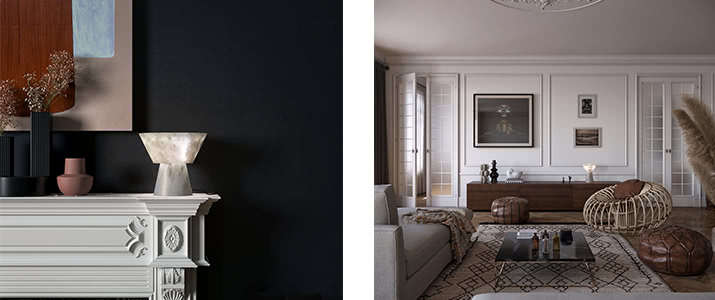 ICONIC GAMA
Iconic GAMA is a fresh interpretation of the table lamp in a play of sleek and feminine contours. In the style of a classic table lamp, Iconic GAMA presents a base and a lamp shade, embellished with a delicate rim in gilded brass that separates the ensemble. The backlit upper piece amplifies the quintessential beauty of alabaster and bestows a timeless elegance to the design. Iconic GAMA comes in two wired lamp formats and a nomadic version.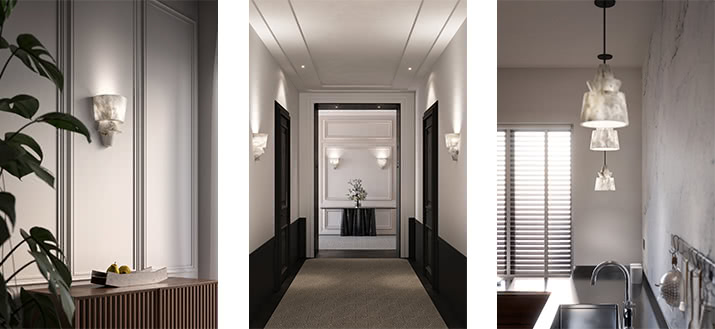 ICONIC FLO
Like any lighting element, Iconic FLO makes the fundamental statement of luminous radiance. A kind of modernist lantern of strict, sleek design. Iconic FLO reveals the mysteries and vibrations of alabaster in a tribute to the stone. Iconic FLO comes in a pendant light and wall lighting.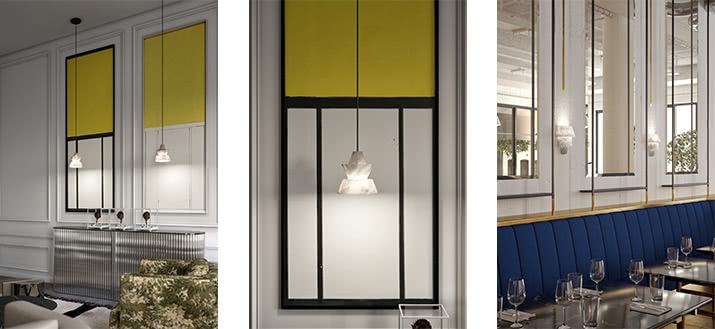 ICONIC PLI
PLI is the most playful model in the Iconic range. Emerging from three different-sized conical forms, Iconic PLI gives the illusion of a retractable pop-up card. As wall lighting or in a composition of pendant lights, Iconic PLI offers both direct light and a more diffused radiance.
ICONIC, a selection of designs evoking the silhouette of a lamp shade, available in pendant lights, wall lighting and table lamps. They add decor and help create an atmosphere of zen. You can multiply them or combine different pieces to create a composition. Sculpted from alabaster into contemporary shapes, entirely handmade and always unique, ICONIC lighting elements in the Edition collection reflect the spirit of the Atelier Alain Ellouz brand.
About Atelier Alain Ellouz.
Atelier Alain Ellouz is a creative art studio specializing in two exceptional materials: alabaster and quartz. True artisans with stone, the Atelier Alain Ellouz team creates lighting, furniture, and custom projects in collaboration with the greatest designers in the world. Between pure design and organic forms, Atelier Alain Ellouz translates the extraordinary richness of alabaster and quartz into an undeniable ode to nature. Founded in 2006 by Alain Ellouz, Atelier Alain Ellouz is now a leader in the world of backlit alabaster. Atelier Alain Ellouz collaborates with designers such as Peter Marino, Philippe Starck, Estates Wainbridge, Stéphanie Coutas, Jean-Marc Mouchet, Les Héritiers and Damien Langlois Meurinne and carries out prestigious projects for luxury brands like Chaumet, Van Cleef & Arpels, Guerlain, and Dior.