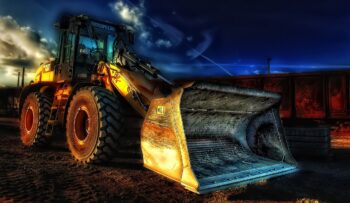 Breaking New Ground in Homebuilding: Shea Homes and Teichert Support Women in Construction
MARINA, Calif. — When J.F. Shea Company began a small plumbing company 142 years ago, there were virtually no women in the construction workforce. Today women in the homebuilding industry have a strong representation in sales, marketing, legal, and finance, but there are still relatively few women in the field of construction.
Shea Homes, one of the country's largest privately held homebuilders, is proud to help change that. Shea hired Teichert Construction, who employs an all-women crew, to prepare sites for new homes at The Dunes and The Enclave in Monterey County. Driving huge earth movers to create roads, infrastructure and homesites is no small task. Maneuvering heavy equipment with names like scrapers, rollers, blades and skip loaders requires tremendous skill and precision.
The craft of moving thousands of yards of dirt to prepare a site for vertical construction requires technical expertise as well. These massive vehicles use satellite GPS and video to turn engineering drawings into 3D reality. To accomplish this, Norma Lopez (the Grade Setter) works on the ground choreographing a ballet of these giant yellow machines with a walkie talkie in hand. Jessica, Jocelyn, and Maikel follow her direction, each operating a giant earth mover.
Most of this female crew have been working together for two years. Jessica, Jocelyn, and Maikel are all sisters. Their father is a carpenter and encouraged them to join the construction industry; an industry they now love. Jocelyn says, "He is our biggest cheerleader." Jessica, a journeywoman, leads the crew, and has been with Teichert for seven years now. Her little sister, Maikel, is the youngest on the team. She is just one month into the Union's internship and certification program.
Shea Homes has been transforming the former US Army base of Fort Ord in Marina, California into a modern residential community that combines sustainability features with a connection to the natural environment. When complete, The Dunes will have over 1,200 homesites and is expected to include a main street promenade, hotels, restaurants, art walk, shopping and entertainment, just across Highway 1 from one of California's most picturesque State Beaches.
Three miles south there is a smaller, but in some ways more challenging site for the all-women crew. They are grading a terraced site tucked between two fairways at the Bayonet and Black Horse golf courses. When completed, some of the homes at The Enclave at Cypress Grove will have sweeping views of the golf courses and Monterey Bay just beyond.
According to Layne Marceau, Shea Homes' Northern California President, "We are excited to have more women in the industry and on our jobsites and are pleased to be working with others who share that vision." Teichert Construction has been around for quite some time. The State of California issued construction license #8 to Teichert, one of only 5 companies from the "First 100" to retain their original license. When Adolph Teichert started his business in 1887, there were few women to be found in leadership positions. Mary Teichert, the Company's President today puts it this way, "We are committed to building high performing teams where diversity, equality and opportunity are encouraged. Women represent a huge untapped pool of talent: with women only holding 6% of US construction jobs, there are a lot of women who do not yet see this industry for the amazing job opportunity it is. Working together with visionary customers like Shea Homes, we know we can strengthen an amazing workforce for the future."
Maikel sums it up, "People are still getting used to seeing women working on construction sites. We are making progress, but we still have a long way to go."
About Shea Homes
Shea Homes is one of the largest private homebuilders in the nation. Since its founding in 1968, Shea Homes has built more than 100,000 homes. Over the past several years, Shea Homes has been recognized as a leader in customer satisfaction with a reputation for design, quality and customer service. Shea Homes builds new homes in California, Arizona, Nevada, Colorado, Washington, Idaho, North Carolina, South Carolina, Florida, Virginia and Texas.