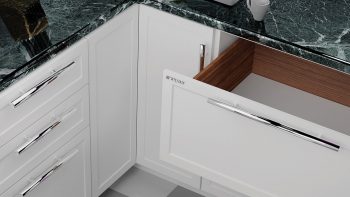 Cabinet Design Takes Center Stage with New Elite Plus Undermount Slide System
Full drawer functionality and quiet close, with no visible hardware
Kernersville, N.C. – Grass America, an industry-leading supplier of functional cabinet hardware, showcases their state-of-the-art Elite Plus Undermount Slide System. Elite Plus allows the cabinet design to take center stage by completely concealing the track and hardware under the drawer box. Utilizing undermount technology, a precision synthetic roller carriage, and a liquid damper enables Elite to operate smoothly, quietly, and consistently.
The Elite Plus comes in a full range of standard lengths for 16mm (5/8″) or 19mm (3/4″) drawer thickness for both face frame and frameless cabinetry. This full extension slide, allows complete access to the interior drawer space. This, coupled with a 75 lb. dynamic weight capacity, allows heavy serving ware and appliances to be stored safely and accessibly.
With multiple depth and tilt adjustment access points along the track, setup is customizable for individual drawer specifications and needs. Elite Plus also features self-latching, multi-cleat, front locking devices with quick release levers for easy drawer removal and integrated height adjustment of 2.5mm and side adjustment of 1.5mm.
Elite Plus brings together tried-and-true undermount technology, a precision roller carriage, and multiple installment options into an easy-to-install and reliable slide. Learn more about the Elite Plus Slide System and other Grass America offerings here.
About Grass America
Grass America is a quality-driven manufacturer of hinges, drawer slides, lifters, and drawer systems. The company's first-class movement systems keep America's kitchens, baths, and office facilities operating at their best. Grass America's manufacturing facility in Kernersville, North Carolina, sells functional hardware and accessories throughout the US, Canada, and Mexico via 130 distributor locations and to most of the leading kitchen cabinet manufacturers. The company is proud that its employees come from all over the world and often reach more than 30 years of experience. Choose Grass as your reliable partner in business for functional hardware. Learn more at www.grassusa.com.