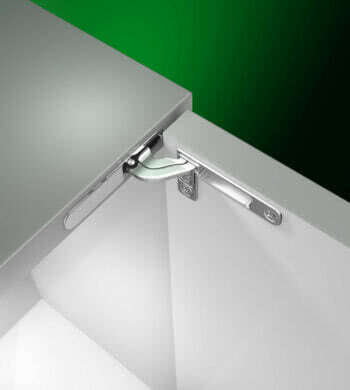 Cabinetry Stands Out with Tiomos H Hinge by Grass America
Kernersville, NC – Grass America is pleased to debut the new Tiomos H Hinge, fully recessed, hidden hinge system.
The Tiomos H hinge is a luxury: it is elegantly integrated into the cabinet and virtually disappears to allow the design of the cabinetry to stand out. Tiomos H offers a 105° opening angle and 3-dimensional adjustment.  The Tiomos H requires a minimum door thickness of 18mm (21"/32") and a recess depth of 15mm (19/32").  The integrated soft-closing mechanism provides a smooth, quiet close each time.  Available in Nickel plated and Night finish, the Tiomos H is perfect for a wide variety of applications for cabinetry and furniture.
About Grass America
Grass America is a quality driven manufacturer of functional hardware and accessories. Our movement systems are first class and found in kitchens, baths, and office facilities around the US. Our manufacturing facility is located in North Carolina and has distribution points located across the US. Our Grass teams come from all over the world with employees reaching 30 plus years of experience. Choose Grass as your reliable partner in business for functional hardware.