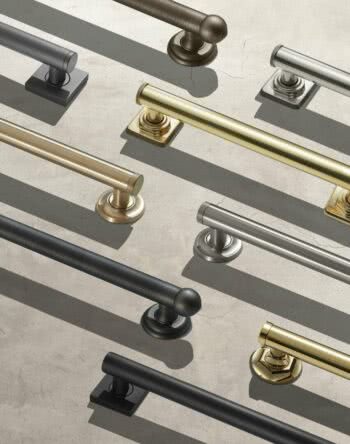 California Faucets Deluxe Grab Bars Elegantly Merge Flexible Decorative Style With Important Safety Features
Ten uniquely detailed designs help prevent falls in the bath while seamlessly coordinating with virtually any décor
(Huntington Beach, CA) California Faucets proves that the utilitarian can still be beautiful. The company's versatile new Deluxe Grab Bars perfectly integrate into any style of bath, while keeping the focus on safety as well as good design. This emphasis on safety is especially important as baby boomers plan remodels and prepare to age-in-place. With 10 distinctive styles available in seven lengths in more than 28 artisan finishes, homeowners and designers have the flexibility to create the safest bathroom possible, while staying true to their unique vision.
"If a chameleon used a grab bar, it would be one of ours," quips Noah Taft, California Faucets Chief Marketing Officer. "Unlike generic grab bars that flood the market, California Faucets decorative grab bars beautifully coordinate with the rest of the bath fittings," he says, noting the vast array of stylistic details to choose from.
Each solid brass grab bar design features decorative base rings with artistic accents such as knurling, ornamental ball design, or industrial-style precision markings, on the end of each bar. With designs to match all styles from traditional and contemporary to transitional, industrial, and even California Faucets unique Steampunk Bay Series, there is a grab bar style to coordinate with any of the company's bath products. Plus, with the ability to choose from 28 artisan finishes, including 14 PVD (Physical Vapor Deposition) finishes with a lifetime warranty against tarnishing, the grab bars will blend with bath hardware from other manufacturers as well.
Made in the company's Huntington Beach, California factory, the Deluxe Grab Bars measure an ergonomic 1-1/4" in diameter for ultimate hand comfort. Concealed mounting hardware, included with each grab bar, helps keep the focus on exquisite design while eliminating unsightly and potentially dangerous protruding screws. Moreover, when properly installed, the Deluxe Grab Bars are ADA compliant.
Available in 12", 18", 24", 30", 36", 42", and 48" lengths, prices for the Deluxe Grab Bars range from $359 for some 12"-style bars in polished chrome to $1,192 for some 48" styles in premium finishes.
About California Faucets
At California Faucets we believe in artisan hands, not mass production. Since 1988, our factory in Huntington Beach has manufactured handcrafted bath products available in 28 finishes that can be easily customized or purchased exactly as shown in our catalog. We proudly provide the latest in bath and shower technology with innovations such as StyleDrain®, StyleTherm®, and ZeroDrain®. These groundbreaking innovations turn utilitarian products into beautiful design statements and are the heart of our ever-evolving line of bath faucets, shower fittings, luxury drains, and accessories. We've also applied the same handcrafted quality and custom options to a full line of kitchen faucets. Our Kitchen Collection combines Italian design with California craftsmanship and offers a full range of matching accessories for a thoroughly coordinated look. For more information about California Faucets call 800-822-8855 or visit CaliforniaFaucets.com.