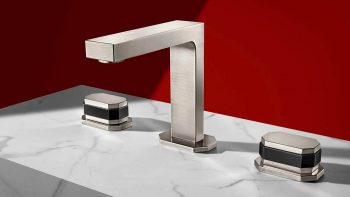 California Faucets Introduces the Doheny™ Series by Christopher Grubb
Used as a design element throughout history, the octagon takes on a new dynamic in California Faucets new Doheny™ Series, one of two bath faucets created in collaboration with award-winning interior and product designer Christopher Grubb. Doheny's signature octagon shape invokes the architectural aesthetic of castles, monuments, and cathedrals, as well as Art Deco and Mid-Century designs.
"Memories of playing with building blocks as a child inspired Doheny," says Grubb. "I've always been fascinated with bold shapes and as I've traveled the world, I've noticed how geometric forms like the octagon are found in notable architecture throughout history, right up to today," Grubb adds, noting the octagon shape is highly valued in Feng Shui since it's believed to balance energy and prosperity.
The Doheny Series features two distinctive handle designs. Both block and lever styles reflect octagonal shapes and allow for a mix of finish combinations, if desired. With more than 25 artisan finishes to choose from, including 15 PVD finishes that are guaranteed against tarnishing, the ways to customize this dynamic series are truly endless.
Beyond the faucet, the Doheny Series offers a complete array of coordinated accessories designed by Grubb. Matching hand showers, towel bars, hooks, paper holders, and cabinet knobs and pulls all make use of the octagon. Even the shower plate and volume controls are uniquely octagonal. Like all California Faucets series, Doheny's showers feature the StyleTherm shower system to ensure the most comfortable shower every time. The Doheny Series is made of solid brass and hand-finished in California Faucets' Huntington Beach factory. Pricing for the Doheny Collection starts at $1,479 for a bath faucet in Polished Chrome.
For an inside view of Grubb's process and inspiration for the innovative new Doheny Series, visit this video by California Faucets.
About California Faucets
At California Faucets, we believe in artisan hands, not mass production. We've been designing, finishing, and assembling solid-brass bath products at our Huntington Beach factory since 1988.  Available in 25+ artisan finishes, every faucet can be easily customized or purchased exactly as shown in our catalog. For more information about California Faucets entire product offering, including our kitchen collection,  call 800-822-8855 or visit CaliforniaFaucets.com.