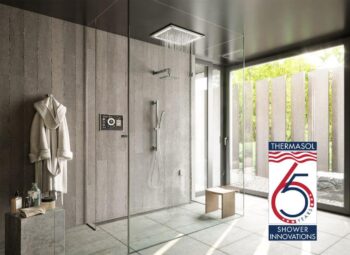 Call for Entries! ThermaSol® 65th Anniversary Design Contest
In honor of its 65th anniversary year, steam shower pioneer ThermaSol® invites designers, showrooms, architects, builders and remodelers to enter their exceptional bathroom designs featuring ThermaSol products. In addition to overall brand and media exposure, entrants will also earn a chance to win a trip to Austin, TX for a once-in-a-lifetime Grand Prix experience, getaway Spa day and factory tour.
Participants are asked to submit at least three images of a recent bathroom renovation or project. The project design and construction must have been completed between 2019 and August 2023. Photographs of the completed design should be submitted online at blog.ThermaSol.com/2023-Design-Contest. Entries will be accepted through August 15, 2023, 11:59PM EST.
Winning projects will be selected based on overall design, functionality and aesthetics. Winners will receive a trip to Austin, TX from October 19 – 23, 2023 that includes:
An exclusive Austin Grand Prix Formula One race experience
A behind-the-scenes ThermaSol factory tour complete with an authentic Texas barbeque
A relaxing Spa getaway day
Winners will also receive an award trophy, digital badge to display on their website and Public Relations/Social Media campaign support to promote their projects as part of the winner announcements. Entries will be reviewed by a jury of design professionals who will determine the winning projects.
About ThermaSol®
A pioneer in steam and smart shower innovation, ThermaSol® built its first-ever residential steam shower in 1958 and continues to design and build the fine quality home spa and sauna equipment. ThermaSol is considered the dependable choice for the contract hospitality industry, world-class spas and the residential market, offering the only 100% digital, fully networked steam systems in the world. To learn more visit www.thermasol.com.