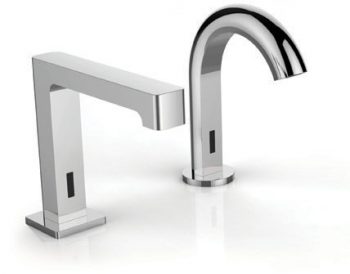 Chicago Faucets Releases Upgraded Alpina® Series Faucets with New and Improved Features
Des Plaines, IL – Chicago Faucets has released new Alpina® series faucets with a redesigned control box that delivers a host of new options. Built with slim, elegant profiles to enhance the look of any restroom, the Alpina® series provides designers with the flexibility and functionality necessary to enhance any space. New Alpina® models, including Alento and Avisio designs, now include the following features, neatly secured below-deck:
New Integral Scald Protection
All Alpina dual supply models now feature integral ASSE 1070 compliant thermostatic protection for added safety.
Heavy-duty, one-piece cast brass body with vandal resistant outlet is designed to withstand abuse and tampering.
New and Innovative Power Options
In addition to AC and DC, Chicago Faucets now offers LTPS and SSPS power systems with Alpina faucets. Both deliver easy installation and maintenance-free performance.
New Quick-Connect Controller
The slim profile, quick-connect controller provides easy electronics connection and allows the faucet to be operational in just minutes.
The Alpina® series is certified to meet ASSE 1070 (models with thermostatic mixer only), ASME A112.18.1/CSA B125.1 and NSF/ANSI 61, Section 9 standards.
To learn more about the Alpina® series and Chicago Faucets, please visit https://www.chicagofaucets.com/worksbeautifully or call 847-803-5000.
About Chicago Faucets
Chicago Faucets has been America's leading manufacturer of commercial faucets for over 115 years. With manufacturing, research, and development facilities located solely in the United States, you can count on products that are made with an unwavering commitment to quality backed by know-how and determination that are uniquely American.
The company's foundry, manufacturing, assembly, and distribution facilities are located within a 350-mile radius of its corporate office. This provides unparalleled control of product quality and an ability to quickly deliver products to any location in the United States.