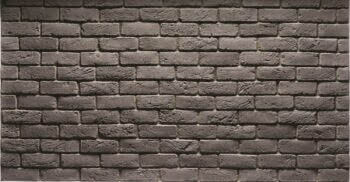 Cultured Stone adds Carbon color palette to Handmade Brick profile
Rich, contemporary gray hues combine with textured surface for a variety of spaces
ROSWELL, GA – Cultured Stone, the company that pioneered the manufactured stone veneer category, introduces Carbon, a rich gray color palette, to its Handmade Brick profile. The new hue provides a contemporary color option with subtle shifts of light and dark tones to emphasize the enduring charm and texture of hand-formed bricks. The saturated palette is ideal for designers, builders and other specifiers looking to incorporate the timeless character of brick in a variety of modern spaces.
"There's interest in integrating the look and feel of exposed brick in a variety of spaces, and we developed Carbon Handmade Brick in response to insights from our trusted community of builders, architects and designers," said Sarah Lograsso, Director of Marketing. "This new color palette provides a timeless look for structures and is a durable, versatile option to showcase the character of saturated, hand painted brick in residential and commercial spaces."
Inspired by the warmth of aged brick structures from the American East Coast, Handmade Brick from Cultured Stone is lightweight and allows for quick and easy installation. In addition to the color tones present on each brick surface, the profile also utilizes contrasting grout lines to infuse spaces with a touch of drama and added visual interest.
Handmade Brick is currently available in four additional color palettes: Canvas, Moroccan Sand, and Titanium.
For more information on Cultured Stone and its products, visit CulturedStone.com.
About Cultured Stone
Cultured Stone originated the manufactured stone veneer category and continues to lead the industry in innovation, reliability and precision. For more than 55 years, Cultured Stone has produced stone and brick veneers of the highest quality for interior applications, such as fireplace surrounds and kitchen backsplashes, or exterior accents. Backed by a 50-year limited warranty, Cultured Stone products are engineered to meet the strictest requirements in the industry and contain an average of 50 percent pre-consumer recycled content. They are available nationwide from more than 850 dealers and globally in Europe, Asia and Australia. The company operates two manufacturing facilities in North America: Napa, California, and Chester, South Carolina. For more information, detailed product specifications and other trade resources, visit CulturedStone.com.