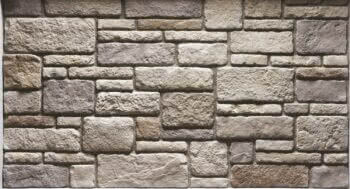 Cultured Stone extends Echo Ridge color palette to Sculpted Ashlar profile
Popular hue accentuates profile's distinctive blend of old-world textured surfaces and sense of modern precision.
ROSWELL, GA – Cultured Stone, the company that pioneered the manufactured stone veneer category, introduces Echo Ridge for its Sculpted Ashlar profile. Echo Ridge, a featured color palette for several Cultured Stone profiles, uses muted tawny undertones and hints of copper to offset the clean lines of the Sculpted Ashlar profile for a contemporary feel that brings warmth into any space.
"The Echo Ridge color palette adds warmth and nuance to the juxtaposed clean-cut forms and rounded ledgestone elements that make Sculpted Ashlar so unique," said Sarah Lograsso, Director of Marketing. "This new addition of gauzy taupes and understated reds offers an even more nuanced touch for specifiers looking to provide more versatility of color on a contemporary surface."
Sculpted Ashlar provides a modern touch to classic charm, utilizing mixed stone sizes to bring natural warmth to interiors and exteriors. The precise lines in between each stone make the profile an ideal choice for sleeker spaces. The stones that compose the profile range in size, starting at 2 ¼ inches high and extending to 20 ½ inches long.
In addition to Echo Ridge, the profile is available in three other color palettes:
Silver Shore features light tones of green and gray
Grouse incorporates medium tones of tan and brown
Ferrous was crafted to match the blue tint of shaped iron with dark tones of carbon blue, charcoal and copper
The Echo Ridge color palette is part of several Cultured Stone profiles, including Dressed Fieldstone, Country Ledgestone and Southern Ledgestone.
For more information on Cultured Stone and its products, visit CulturedStone.com.
About Cultured Stone
Cultured Stone originated the manufactured stone veneer category and continues to lead the industry in innovation, reliability and precision. For more than 55 years, Cultured Stone has produced stone and brick veneers of the highest quality for interior applications, such as fireplace surrounds and kitchen backsplashes, or exterior accents. Backed by a 50-year limited warranty, Cultured Stone products are engineered to meet the strictest requirements in the industry and contain an average of 50 percent pre-consumer recycled content. The company operates two manufacturing facilities in North America: Napa, California, and Chester, South Carolina, and the products are available nationwide from more than 850 dealers and globally in Europe, Asia and Australia. For more information, detailed product specifications and other trade resources, visit CulturedStone.com.