Designer Doorware's Club Lever Handles Boast Picture-Perfect Rounded Forms
Relaxed lines and soft contours highlight this versatile lever collection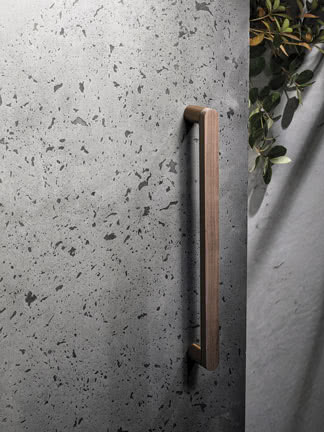 (Melbourne, Australia) –  A relaxed take on modern silhouettes, the Club lever handle from Designer Doorware combines soft contours with clean lines. Its picture-perfect form features fully rounded edges suitable for a range of decors. Customize the Club lever with one of 11 backing plates, ranging from round rose and oval window rose to square rose, rectangular window rose, and sleek narrow stile.
"The distinctive shape of Club is at once elegant and confident, a sophisticated look of soft, clean lines yet robust in feel, perfect for contemporary and transitional styles," said Joseph Di Benedetto, Executive Director for Designer Doorware. "By pairing this timeless style with different finishes, Club is suitable for nearly any home. For example, pair Club with a black finish for a Brutalist look or with brass to complement 20th century designs."
A mid-size lever, Club measures 5-1/3" long. It is available in the company's 16 special finishes as well as Black Satin VBS, which measures a 9 out of 10 on the hardness scale for premium durable and resistance to corrosion and abrasion. The profile also is part of the Bullet + Stone Collection, which fuses the rough and cold aesthetic of reinforced concrete with sumptuous and eye-catching metals, and the Monte Timber Collection, featuring sustainably sourced American white oak or American black walnut in a raw or oiled finish.
The Club lever starts at $198 per set.
About Designer Doorware
Designer Doorware is an award-winning architectural hardware designer and manufacturer. Since its inception in 1996, the company has expanded into a sought-after resource for leading architects, designers, builders, and homeowners worldwide. Recognized for their exclusive designs and smart functionality, Designer Doorware collections enhance today's clean, modernist residential and commercial aesthetics. The company's full product line encompasses door handles and knobs, sliding door handles, door accessories, cabinet hardware, and custom products to suit any space. For more information call Designer Doorware at +613 9300 8888 or visit designerdoorware.com.au.