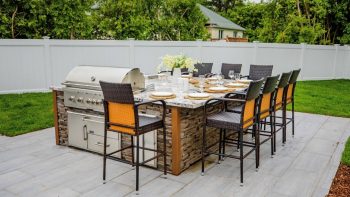 Dolores Cantania, RTA and Coyote Outdoor Living Team Up to Create a Kitchen Island Outdoor Oasis
Dallas, TX- RHONJ fan favorite, Dolores Cantania, has taken al fresco entertaining to a whole new level with her unique, square outdoor kitchen design. The Bravo star knew the layout she wanted and Coyote Outdoor, alongside RTA's design team, brought that vision to life. Dolores envisioned a space where she could create memories and bring the hearth of the home outdoors.
Dolores enthused about her Coyote cooking products, "I love all of my Coyote appliances, but I think my favorite addition to my outdoor kitchen island is the large power burner." In an article in Showbiz Cheatsheet, Dolores explains, "I wanted to be able to cook my Italian Sunday meal and watch everybody enjoy being outside. There's a huge burner next to my grill that I can cook my sauce, my pot of sauce. And then it just smells through the whole neighborhood. I mean, I love it so much. So (son) Frankie and all his big man friends come over and sit and eat."
"Dolores Catania is one of the most popular housewives on the Bravo Network. Coyote Outdoor was thrilled that our product was used in the design of her outdoor kitchen," raves Jim Ginocchi, President of Coyote Outdoor. "Dolores has the unique ability to communicate her style choices in creating this outdoor oasis to her extensive fanbase."
This RTA Outdoor Living custom design will be offered on their website (https://rtaoutdoorliving.com/) in 2023. The countertops have room for nine barstools and there is maximum space for preparing food, setting the table, and serving the meal. She also styles the island so that is pretty enough for inside but casual enough for outside. Not one for paper plates, Dolores incorporates unique dinner sets and utensils.
"I never thought it would be so easy to design my kitchen with RTA and Coyote," effuses Dolores. "At one point I was losing sleep, thinking I would not be able to do it. I pulled it off so easily as everything was explained so well and it was also a great, fun experience. If I could do it, anyone can do it!"
The outdoor kitchen market continues to grow even after the tremendous rise in sales during the pandemic. The Coyote brand has always catered to the homeowners that want to build that dream outdoor oasis at an affordable price point. Coyote Outdoor partners with RTA (Ready to Assemble) outdoor kitchens. They take all the guesswork and multiple layers of contractor involvement out of the outdoor kitchen process. Their newly launched outdoor kitchen design tool allows consumers to design and visualize their kitchen from their desktop in the same way as Dolores Catania. Dolores explains the growing popularity of outdoor kitchens, "a beautiful, functional island with state-of-the-art appliances allow you to entertain in style. Catching the sun while it is shining rather than being in the house only enhances the experience."
About Coyote Outdoor Living
Founded in Dallas, TX, Coyote Outdoor Living is an innovative company that specializes in the design, development, and production of high quality, all-stainless-steel grills, and accessories, providing people with the tools to build the outdoor kitchen of their dreams. For more information on Coyote, visit coyoteoutdoor.com.