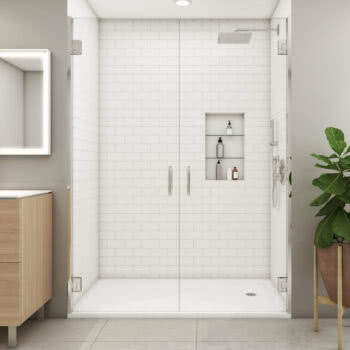 Duravit Debuts Architec Slim Shower Tray Solutions for Standard Alcove Applications in Residential, Hospitality, and Builder Spaces
Duravit USA has launch its Architec Slim shower trays developed specifically for the North American Market. These new shower trays offer a modern design solution that enhances standard alcove application across residential, hospitality, and builder spaces.
"The new Architec Slim shower trays expand the trusted Duravit quality and design solutions for standardized application across a variety of building types," said Time Schroeder, President of Duravit North America. "This is an important series for us as showers are trending across all sectors from home remodeling and new construction to highrise and hotel projects. They are efficient, economical, and strategically designed to offer a solution with a low profile. They are an exciting addition to our complete bathroom portfolio."
Architec Slim shower trays provide a low profile with a 2″ curb height, bringing a smart solution to a wide audience. Adding to Duravit's rich portfolio of complete bathroom solutions, the shower trays are sleek in design and engineered with Duravit's trusted quality to elevate any bathroom from ordinary to extraordinary.
Available in a variety of configurations and sizes (including 36×36″, 48×30″, 48X36″, 54X36″, 60×30″, 60×32″, and 60×36″), the Architec Slim shower trays are self-leveled and include an integrated tile flange. The development of these models take into account standard shower dimensions from compact to spacious bathroom archetypes.
Duravit plans to continue to build upon these initial sizes with additional model debuts. These shower trays can be paired with standard US drains (purchased separately) with the option for center, right or left application; the 36×36″, 48×30″, and 48×36″ allow only for a center drain.
The Architec Slim shower trays are made of ¼" (5mm) thick acrylic and are fiberglass reinforced. Eliminating the need for mortar beds upon installation, the solutions come equipped with an integrated wood support base. Bringing Duravit's quality to the shower space, the shower trays are designed to withstand and support decades of use. Larger versions can be installed to meet ADA requirements. Through a variety of standardized sizes, Duravit's new Architec Slim shower trays offer a beautifully designed and easy-to-install solution for many applications across North America.
About Duravit. Founded in 1817 in Hornberg in the Black Forest, Duravit AG is today a leading international manufacturer of designer bathrooms. The company is active in more than 130 countries worldwide and stands for innovation in the fields of signature design, comfort-enhancing technology, and premium quality. In cooperation with high-profile international designers, such as Philippe Starck, sieger design, Kurt Merki Jr., Christian Werner, Matteo Thun, and Cecilie Manz, the company develops unique bathrooms that enhance quality of life for users on a sustained basis. Duravit's product portfolio comprises sanitary ceramics, bathroom furniture, bathtubs and shower trays, wellness systems, shower-toilets, tap fittings and accessories as well as installation systems. Duravit USA, Inc. headquarters are based in Duluth, GA. For more information on Duravit or to find a local distributor, visit www.duravit.us or call 888-DURAVIT.
Editor's Note: