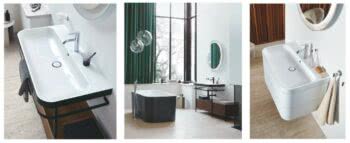 Duravit Expands Happy D.2 Plus Washbasins to Carry on Timeless Design
Atlanta, GA ⎯  Duravit USA is pleased to announce the premiere of a brand new technology, c-shaped, and the exclusive US launch of this patent-pending technology in its expansion of the Happy D.2 Plus series by sieger design. c-shaped is an evolution of the brand's patented c-bonded process, which enables a practically seamless connection of rounded ceramic washbasins to bathroom furniture. An innovation in material science, the technology brings a new level of precision and a seamless aesthetic to the bathroom. The additions of c-shaped and c-bonded washbasins build on the storied twenty-year history of the Happy D. series by sieger design.
Duravit is a leader in ceramic craftsmanship and material science. c-bonded first revolutionized the industry by seamlessly connecting the washbasin with the vanity to create the illusion of a single unit. c-shaped builds on this process to guarantee that the ceramic washbasin and furniture run in perfectly parallel lines with no overhang or recess, with a precise gap of 1/4". Made entirely of DuraCeram® and specially finished, c-shaped washbasins offer an aesthetic and tactility never before seen in the luxury bathroom space.
"Today, even greater precision is possible thanks to innovative production techniques," explains Michael Sieger. sieger design has harnessed these possibilities to create four new countertop basins that retain the distinctive rim of the successful Happy D. design, but with far finer, more precise lines. "The essence of the Happy D. aesthetic remains intact, and you can still see a clear family resemblance," says Michael Sieger.
The new c-shaped and c-bonded bathroom additions reinforce the design language of Happy D.2 Plus. Expressive in style and elegance, the Happy D.2 Plus c-shaped washbasin is available with a ceramic, glossy white outer edge in combination with a vanity unit or metal console in chrome. Happy D.2 Plus c-bonded washbasins incorporate a rounded outer edge in the same color as the vanity unit or to match the metal console in black matte that they pair with. The new additions are available in three widths (22 5/8", 30 ½" and 38 3/8") and are designed to seamlessly combine with products from the Happy D.2 and Happy D.2 Plus series. Duravit and sieger design are also expanding the collection with a floor-standing metal console. Streamlined in form, the console is available in the standard chrome as well as black matte. Shelving and drawer units can be integrated for more storage. A seat with a comfortable cushion can also be added on the left or right.
"Over the course of two decades, the Happy D. series has remained an iconic mainstay beloved by the global design industry. With Happy D., Happy D.2, and Happy D.2 Plus, sieger design has repeatedly demonstrated new, forward-thinking influences while continuing the archetypal 'D' design language of the original series. The launch of Happy D.2 Plus c-shaped and c-bonded is a further testament to this," concludes Duravit North American President, Tim Schroeder.
About Duravit
Founded in 1817 in the heart of Germany's Black Forest, Duravit is a leading manufacturer of designer bathrooms. Duravit operates in 130 countries worldwide and has been honored with numerous national and international awards for its innovations in design and technology. The company's collaborations with internationally renowned designers such as Philippe Starck, Phoenix Design, EOOS, Norman Foster, and sieger design yield forward-thinking, environmentally conscious, and award-winning products that bring the bathroom to life. Duravit USA, Inc. headquarters is based in Duluth, GA. For more information on Duravit or to find a local distributor, visit www.duravit.us