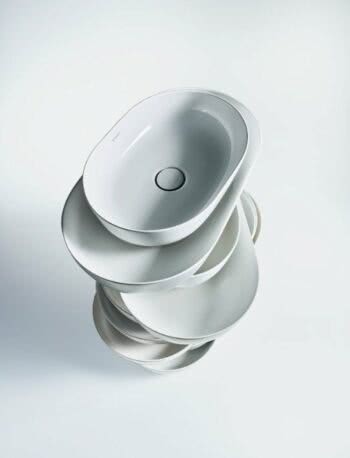 Duravit USA Debuts Design Additions to Nordic-inspired Luv Series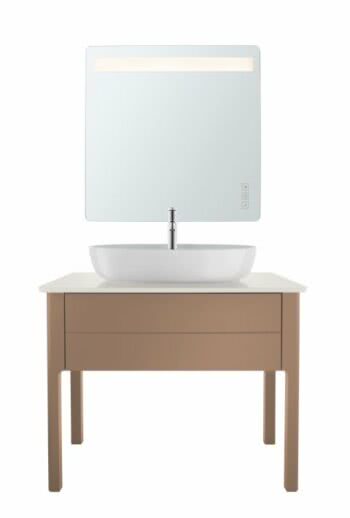 Atlanta, GA – Duravit USA is pleased to announce the launch of new designs and finishes to its Nordic-inspired Luv series by Cecilie Manz. With the debut of a brand-new furniture finish, Almond Satin Matte, and an expanded range of washbasin sizes and mirror technology, the additions to the Luv series afford greater possibilities for individualization. In a series defined by Scandianvian-chic, Danish designer Cecilie Manz uses a puristic design language to create a feel-good atmosphere in the bath – and one that enhances wellness and relaxation. In a time of so much uncertainty, these soothing bathroom solutions bring a sense of calm and clarity to the bathroom space for heightened rejuvenation.
"We are excited to continue our collaboration with Cecilie Manz through these minimalist design additions to the timeless Luv series," says Duravit USA President, Tim Schroeder. "The Nordic design sensibility and heightened sense of wellness are captured across these new products. Reinforcing the success of the Luv range, Manz has continued to marry elegance with soft shapes that are warm and inviting."
The new furniture finish for the Luv series, Almond Satin Matte, is warm yet restrained with its interplay of light colors and natural shades. Almond Satin Matte joins Nordic White Satin Matte, Taupe Satin Matte, Stone Gray Satin Matte, Light Blue Satin Matte and Night Blue Satin Matte to round out the options available across the entire Luv series. Almond Satin Matte reinforces a calm washing area in the bath that exudes sheer elegance. Manz has also expanded the Luv washbowl size options, with a new total of five sizes with four different outer surfaces for even greater design opportunities. An additional furniture width (36 7/8″ x 22 1/2″) joins three existing vanity unit sizes (25 1/4″ x 17 3/4″, 52 5/8″ x 22 1/2″, 68 1/4″ x 22 1/2″).
Luv's authentic design continues throughout the series' smart mirrors, which have been upgraded to offer larger sizes and incorporate additional technology. Now available in four widths and heights, Luv mirrors offer a new switching function for light temperature, which enables a seamless adjustment of color from cool to warm. Light variation and defogging capabilities are operational through the mirrors' contactless panel.
About Duravit Founded in 1817 in the heart of Germany's Black Forest, Duravit is a leading manufacturer of designer bathrooms. Duravit operates in 130 countries worldwide and has been honored with numerous national and international awards for its innovations in design and technology. The company's collaborations with internationally renowned designers such as Philippe Starck, Phoenix Design, EOOS, Norman Foster and sieger design yield forward-thinking, environmentally conscious and award-winning products that bring the bathroom to life. Duravit USA, Inc. headquarters are based in Duluth, GA. For more information on Duravit or to find a local distributor, visit www.duravit.us or call 888-DURAVIT.