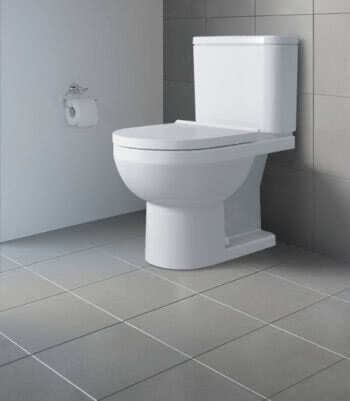 Duravit USA Repositions DuraStyle Basic Series For Greater Accessibility Across All Markets
(Atlanta, GA) – Duravit USA is pleased to announce the repositioning of its DuraStyle Basic floor-standing toilet designs for the North American market. Now available at a reduced price point, the strategic new positioning offers greater access to Duravit's established level of quality and well-designed products. This allows the series to be highly competitive within the middle market where the purchasing power is wide and diverse. The evolution of DuraStyle Basic helps the brand to develop stronger relationships with developers and builders working within hospitality, luxury for-rent, multifamily, remodeling and design-build. It underscores Duravit's commitment to providing product solutions to promote universal access and design to all.
"The repositioning of our DuraStyle Basic line is a very important step for Duravit North America," comments Tim Schroeder, President and CEO of Duravit North America. "With a more accessible price point, we expect DuraStyle Basic to be a market disruptor across the mid-market for-rent, hospitality and multifamily building and developer spaces. Leading with Duravit's established quality, design and technology touchpoints, DuraStyle Basic now allows us to present Duravit as a solution to a wider audience. We look forward to building our product offerings in this area."
As ADA-compliant solutions designed with the consumer, architect, builder, and plumber in mind, Duravit's DuraStyle Basic floor-standing toilets offer innovation, hygiene and quality to the marketplace. The one-piece and two-piece toilet models offer enhanced hygiene through integrated Rimless Flushing technology from Duravit, which enables a hygienic, open rim design allowing for powerful water flow that rinses the entire inner surface. DuraStyle Basic toilets are available with single flush lever for the left or right hand side (ADA-compliant) as well as dual-flush capabilities, all of which are HET WaterSense approved. Now available at a new price point, the DuraStyle Basic models are easy to install and retain the highest levels of design – including a neatly concealed trap.
The strategic repositioning lays the foundation for additional new collections in this price segment – bringing Duravit's design, innovation and quality to a broader customer base.
About Duravit 
Founded in 1817 in Hornberg in the Black Forest, Duravit AG is today a leading international manufacturer of designer bathrooms. The company is active in more than 130 countries worldwide and stands for innovation in the fields of signature design, comfort-enhancing technology and premium quality. In cooperation with high-profile international designers, such as Philippe Starck, sieger design, Kurt Merki Jr., Christian Werner, Matteo Thun and Cecilie Manz, the company develops unique bathrooms that enhance quality of life for users on a sustained basis. Duravit's product portfolio comprises sanitary ceramics, bathroom furniture, bathtubs and shower trays, wellness systems, shower-toilets, tap fittings and accessories as well as installation systems. Duravit USA, Inc. headquarters are based in  Duluth, GA. For more information on Duravit or to find a local distributor, visit www.duravit.us or call 888-DURAVIT.