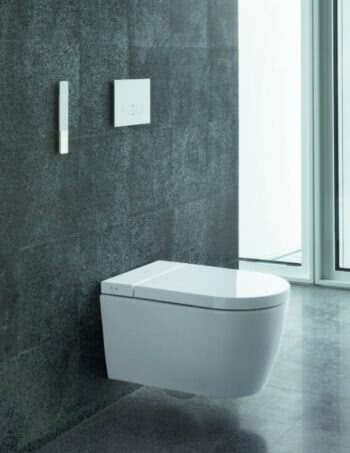 Duravit USA Ushers in the New Shower – Toilet Generation with the Debut of SensoWash® Starck f Designed by Philippe Starck
(Atlanta, GA) – Duravit USA is pleased to announce the launch of SensoWash® Starck f. Designed by Philippe Starck, the striking minimalist design of this new shower-toilet expands Duravit's Industry-leading SensoWash® offerings, allowing for greater design flexibility. The "f" within its name stands for "flat,"as the seat design forms a precise, harmonious unit when paired with matching ME by Starck ceramic. Available in two versions: SensoWash® Starck f Plus and SensoWash® Starck f Lite for wall-hung or one-piece floor mounted toilets, the seat offers a minimal design and integrated technology for maximum comfort and ease of use.
"We believe that nothing is as thorough, as hygienic, as natural and as refreshing as cleansing with water. With the addition of SensoWash® Starck f, our offering within the shower toilet category now reaches 45 different solutions. This means we can truly deliver the highest level of comfort and hygiene to everyone regardless of style, preference or budget," says Tim Schroeder, President and CEO of Duravit North America.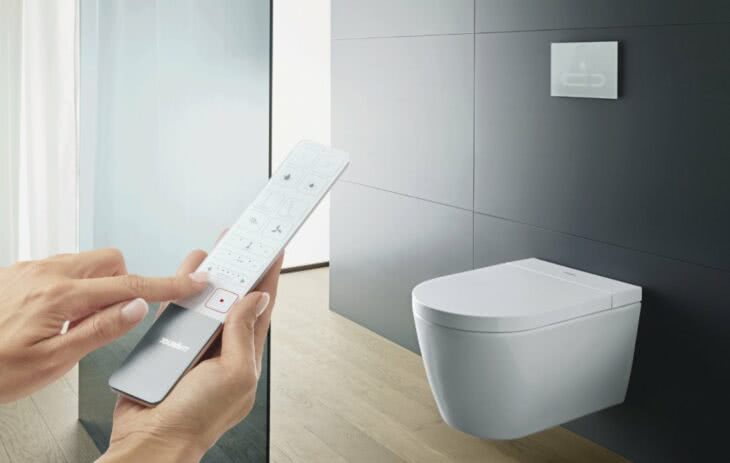 When Duravit and Philippe Starck first introduced Sensowash over 10 years ago, it was revolutionary; unifying high quality design and shower-toilet technology for the first time. Today, the collection features myriad of models that combine innovative technology with comfort, including Sensowash® Starck, SensoWash® Slim, Sensowash® i, and now SensoWash® Starck f. The latest iteration, SensoWash® Starck f, continues to set industry standards. While at first glance Sensowash ®Starck f looks like a really attractive, conventional toilet, it is in fact a highly evolved designer shower-toilet, housing all functions within the body of the ceramic. The Shower-toilet technology is fully integrated to offer a minimal, clean design language. The flat seat and the white cover located behind it form a flush-fitting unit with the ceramic with which it is paired. Operated via a remote control or smartphone app, users can easily program profile settings for maximum comfort. Featuring an automatic open and close lid, auto flushing, Comfort-, Lady-and Rear-wash shower-toilet functions, heated seat, water temperature, a controllable hot air dryer and more, the SensoWash® Starck f enables heightened hygiene and wellness for its users.
SensoWash® Starck f also includes Duravit's Rimless® flushing technology which affords improved water flow for perfect flushing results. HygieneGlaze, an industry-leading material science innovation from Duravit also comes standard in both the plus and lite SensoWash® Starck f models, affording germ fighting innovation. HygieneGlaze, baked into the ceramic during firing, is proven to kill 90% of bacteria after six hours and 99.999% after 24 hours. The optimized formula of the HygieneGlaze arrests the growth of bacteria through "oligodynamic reaction"-the effect of positively charged metal ions colliding with bacteria.
SensoWash® Starck f ushers in a new feel for hygiene and wellness in its debut. Leading with minimal design and powerful technology, SensoWash®Starck f adds luxury and maximum comfort to the bath in a wall hung or one-piece Lite or Plus model.
About Duravit
Founded in 1817 in Hornberg in the Black Forest, Duravit AG is today a leading international manufacturer of designer bathrooms. The company is active in more than 130 countries worldwide and stands for innovation in the fields of signature design, comfort-enhancing technology and premium quality. In cooperation with high-profile international designers, such as Philippe Starck, sieger design, Kurt Merki Jr., Christian Werner, Matteo Thun and Cecilie Manz, the company develops unique bathrooms that enhance quality of life for users on a sustained basis. Duravit's product portfolio comprises sanitary ceramics, bathroom furniture, bathtubs and shower trays, wellness systems, shower-toilets, tap fittings and accessories as well as installation systems. Duravit USA, Inc. headquarters are based in Duluth, GA. For more information on Duravit or to find a local distributor, visit www.duravit.us or call 888-DURAVIT.