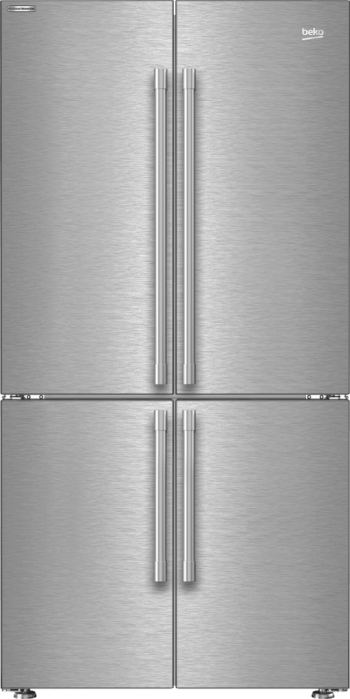 Gaming Entrepreneur Mike Wann Creates Sustainable Dream Home Using Beko Appliances
Chief strategy officer for Super League Gaming is creating his 4,300-sq.-ft environmental dream home with his wife to prove how accessible sustainable design and construction can be.
SANTA MONICA, Calif. – As chief strategy officer for Super League Gaming, Michael Wann spends most of his days building games and open-world gaming platforms that empower game developers, players and fans to rock the metaverse.
But for his latest venture, the design and construction of the world's most accessible net zero carbon home, Wann is playing a game he feels he simply can't lose.
"We can only realistically reduce our collective carbon footprint and become a sustainable society if we succeed at building truly sustainable homes – so the challenge becomes making sustainable design and construction attainable to all," said Wann. "Clearly, the stakes are high. I'm creating my eco-friendly dream home to show the world that net zero carbon living can be accessible, easy and surprisingly affordable."
Pivotal to the fulfillment of Wann's vision is an agreement with Beko Home Appliances to create the world's first two Beko Healthy Kitchens as part of the brand's industry-leading sustainability initiative that seeks to replace the reputation of the kitchen from top energy offender to the center of a healthier, more sustainable lifestyle.
A driving force behind multiple prominent technology and entertainment brands over the past decade, Wann was instrumental in the growth of Tastemade, Fullscreen (now New Warner Media) and Mobcrush, and was CEO of Mobcrush when it was acquired by Super League Gaming in 2021. He helped build multi-channel-network (MCN) brands Spinmedia and Demand Media, and has led business-development efforts at Amazon and MSNBC. Beyond the virtual world, he is most passionate about making sustainable living a reality for his wife and two kids.
Wann is building the 4,300-sq.-ft., three-level home in the Sunset Park neighborhood of Santa Monica, Calif., with his wife, Tara, as both a personal residence for his family and a working showcase of the latest sustainable design and construction products, practices and trends. He started construction with general contractor Kosta Saridakis of KLM Development in May 2021 and expects a January 2023 move-in.
A floorplan by Vaishali Makim, AIA, principal of Makim Architecture of Santa Monica, calls for sweeping, light-filled open spaces, four bedrooms, and four bathrooms, dual kitchens, separate family, living, entertainment and formal dining rooms, a personal gym and climate-controlled wine and cheese room.
To ensure a truly collaborative, multi-industry effort, Wann recruited eight best-in-class sustainable brands to contribute their most advanced, environmentally friendly products which are readily available at national retailers. For the Beko Healthy Kitchens, Beko is donating 16 of its latest, most tech-advanced cooking, cooling and cleaning appliances featuring the Environmental Protection Agency's highest ENERGY STAR® ratings for electrical efficiency plus proprietary technologies designed to provide tangible health, wellness and sustainability benefits.
The two custom kitchens include a 145-sq.-ft. downstairs chef's kitchen and 152-sq.-ft. open-floor-plan family kitchen in the same vertical space. Announced by Beko President Zach Elkin earlier this year, Beko's Healthy Kitchen initiative brings together designers, nutritionists and strategic partners to reimagine the kitchen as the intersection of health, wellness and sustainability in the American home.
Since entering the U.S. market in 2016, Beko has been working with thought leaders to shape the concept of a healthy kitchen. Rather than one rigid definition, the result has become an evolving understanding of what a healthy kitchen can and should be – encompassing everything from floorplan and interior design, appliance mix, surfaces and lighting to nutrition, recipe-prep, technology, and sustainability practices. The brand maintains a culture committed to exceeding ENERGY STAR®, EPA and DOE requirements and setting new standards for carbon-neutral manufacturing, training, energy communications, and sustainability at its 28 global production facilities.
"It seems only fitting that one of the world's most sustainable homes and a global example of attainable net zero living will debut the world's first two Beko Healthy Kitchens, which were also designed to prove that sustainability is within reach of all homeowners," said Elkin. "Michael, Tara, and the design and construction teams have been tremendous partners in our collective quest for a more sustainable future."
Michael Wann is equally bullish on the relationship. "For years, our dream has been to build a home that reflects our love for a healthy, balanced day-to-day life and fully sustainable, eco-friendly lifestyle," he said. "As the heart of the home, the kitchen needs to be at the center of that net-zero-carbon conversation – and the folks at Beko clearly understand this."
The two Beko Healthy Kitchens will include 16 new products in the following categories:
Cooking: Next-generation Beko cooking appliances, including Beko ranges with AirFry that captures the flavor of fried foods without unhealthy oils and for a fraction of the fat and calories; and a revolutionary Beko Double-Wall Oven boasting 11.4 cubic feet of capacity – the most of any oven in the U.S. – and 3D cooking capability for maximum heat distribution at minimum cook times.
Beko 39 Series Dishwashers with CornerIntense®: One of three new families of Beko dishwashers equipped with CornerIntense®, a Beko-patented technology that replaces the traditional circular spray arm with a rectangular design to deploy water and detergent to every spot in the washtub, including the corners, to get dishes cleaner using 50% less water and two-third the energy of conventional dishwashers. Beko's 39 Series is the only lineup to off all of Beko's advanced washing and cleaning features, such as EverClean™ Filter, DeepWash™, and SelfDry™.
30" Stainless Steel Freezer Bottom Built-In Refrigerator with EverFresh+®: Beko's refrigerator with EverFresh+® and Active Fresh Blue Light keeps fruits and vegetables fresh for up to 30 days, making healthier, produce-rich diets more accessible for all.
36" HarvestFresh™ Four-Door French Door Refrigerator (Available in 2023): Beko's next-generation signature refrigerator is the first 36" four-door model to feature HarvestFresh™, which expands on EverFresh+® through an innovative, three-color light technology that mimics the 24-hour sun cycle inside the crisper to preserve both produce freshness and essential vitamin content.
Compact Washer with RecycledTub™: A Wi-Fi-enabled washing machine with state-of-the-art functionality and sustainability features, including a washtub made from 60 recycled polyethylene terephthalate (PET) bottles. Also featured is AquaTech® technology that uses the power of water to replace harsh drum movements, resulting in up to 50% faster wash times that are also up to 50% gentler on fabrics without compromising washing performance.
24" Front-Load Heat Pump Dryer: A Wi-Fi-enabled dryer with 14 programs that efficiently dries clothes at lower temperatures by reusing hot air, resulting in energy savings and a gentler experience for clothes. The latest steaming and sanitization features like IronFinish infuse water and steam into clothes. At the same time, they dry, effectively removing unwanted garment creases and leaving clothes completely dry and ready to wear. It also boasts a standard 4.5 cu/ft capacity.
"Beko is honored to be partnering with the Wanns to show the world what affordably priced, net zero living looks like," said Justin Reinke, Beko's vice president of marketing. "Once completed next year, the Wann House becomes the new ground zero for homeowners looking for easy, accessible ways to reduce their carbon footprint without sacrificing their desire for style, convenience and comfort – whether in the kitchen or throughout the home."
About Beko U.S.
Beko U.S., Inc., part of the Arçelik family, is the American subsidiary of the leading freestanding appliance brand in Europe, with a presence in more than 400 million homes in more than 140 countries. Committed to the premise that healthy living is only possible on a healthy planet, Beko specializes in cooking, cooling and cleaning products that empower homeowners to live healthier, more sustainable lives. The brand has received numerous accolades for protecting the environment including the Environmental Protection Agency (EPA)'s highest honor for energy efficiency each of the past five years, and a Good Housekeeping 2021 Sustainable Innovation Award in the Smart Sustainable Home Appliance category. For more information, visit www.beko.com/us-en.