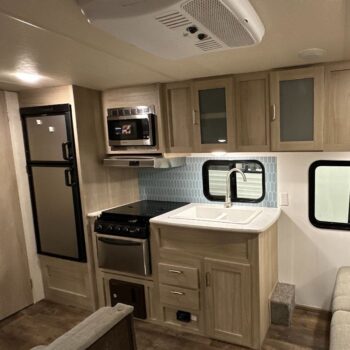 Genesis Products Partnership with Camping World Helps RV Owners Transform their Interiors
Elkhart, IN — Genesis Products, a leading manufacturer of recreational vehicle (RV) interior components and member of the Kitchen Cabinet Manufacturers Association (KCMA), has partnered with Camping World, the top RV dealer in the United States, to launch its new REVIVE Collection for refreshing and upgrading RV interiors. Available on campingworld.com and at 10 Camping World locations as of Mid-May 2023, Genesis's curated product collection helps RV owners transform the look of cabinets, wallboards, and backsplashes quickly, easily, and inexpensively.
"For 20 years, we've supplied major RV brands with high-quality interior components. We developed the Revive Collection to bring that same quality and innovation directly to consumers," said Erin Curtis, VP of Marketing and Development, Genesis Products. "Camping World has been an ideal partner to bring this collection to market. Their design centers empower owners to make their RV uniquely their own, which is exactly what our Revive products do."
The REVIVE peel-and-stick products are easy to install and feature RV-rated adhesive designed to withstand the conditions of the road for many years. "For RV owners who want an upgrade but aren't ready to buy new, The REVIVE Collection is a DIY-friendly solution that can literally transform their interior." Curtis added. "We want to make it easy for owners to fall in love with their RV's again." Available in a variety of on-trend designs and colors, the REVIVE Collection includes:
Wallboard & Cabinet Kits
Specifically designed to overlay RV cabinets and walls for a fresh look that's durable and long-lasting. Each kit includes tools for easy installation, including a putty knife, microfiber cloth and instructions.
Cabinet Doors
Offered in five trending profiles colors ranging from traditional to contemporary. Doors can be matched with Wallboard & Cabinet Kits for a complete transformation. Available via special order.
Cabinet Hardware
Includes residential-grade knobs and pulls in four beautiful finishes and six curated styles.
Backsplash Kits
Made with lightweight PVC and easily installed with double-sided REVIVE tape, providing the look and feel of real tile without extensive grout work.
Genesis CEO and President, Jon Wenger, says this is a sign of the company's long-term focus. "The aftermarket offering gives us a new channel to expand and grow. Seeing this product line go to market has brought a ton of positive momentum to the team."
REVIVE is available online at CampingWorld.com and at ten of Camping World's in-store locations across the country (locations listed below). "We look forward to growing our partnership with Camping World as we continue to innovate and develop the collection in the future," said Wenger.
REVIVE in-store Locations include Forest Lake, MN, Bowling Green, KY, Charleston, SC, San Antonio, TX, Spring, TX, Tampa, FL, Ocala, FL, Mesa, AZ, Burlington WA and Colton, CA.
About Genesis Products
Genesis Products is a leading supplier of laminated panels, wood components and custom molded solutions serving OEMs across a growing spectrum of industries including RV, Manufactured Housing, Building Materials, Healthcare, Office & Education, Cabinet & Storage, Furniture, Transportation, and Heavy Truck.