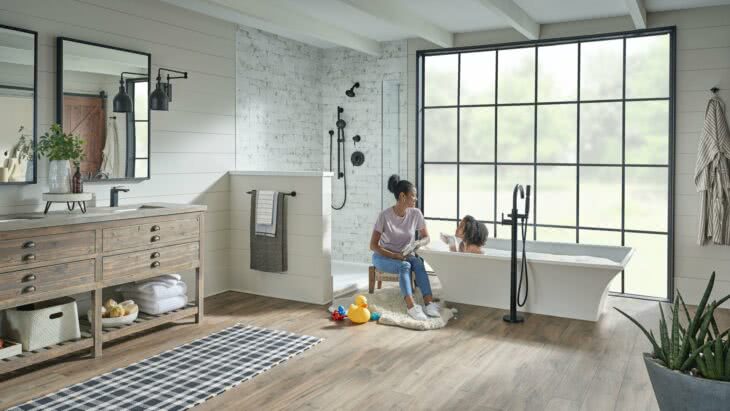 Gerber® Expands Design Horizons and Bath Experience with the introduction of Floor Mount Tub Fillers
Woodridge, IL – Gerber® Plumbing Fixtures, a manufacturer of tried and true, high-quality kitchen and bathroom plumbing products, has for the first time added floor mount tub fillers to its bathroom product lineup. Gerber now offers three styles that work well with the aesthetic of any space and provide style with substance as a perfect statement piece to pair with freestanding tubs. Each also complement Gerber's bathroom faucet collections.
"When consumers are looking to replace or upgrade their bath tub, more than half are choosing a freestanding tub. A freestanding tub and tub filler can bring it out of the corner to create a beautiful, sculptural and peaceful bathing space," said Katie Hayes, Director of Product Management – Fittings, for Gerber Plumbing Fixtures.
The Contemporary tub filler exudes a modern yet timeless look. Its cylindrical, minimalist style provides a fresh aesthetic with simple sophistication for any space. For a polished vibe balanced with angular edges, the Square tub filler's wide and sleek arcs embody high style for a range of bathroom settings. The Traditional tub filler's sophisticated style, rich with elegant details, gives off a classic charm. All three are available in Chrome, Brushed Nickel and Satin Black, and both the Contemporary and Square fillers are available in Brushed Bronze.
"Our new floor mount tub fillers deliver on style and value," noted Hayes. "The Contemporary tub filler is stunning on our new Brushed Bronze finish and perfectly complements the Parma collection to effortlessly pull together a complete and customized bathroom retreat."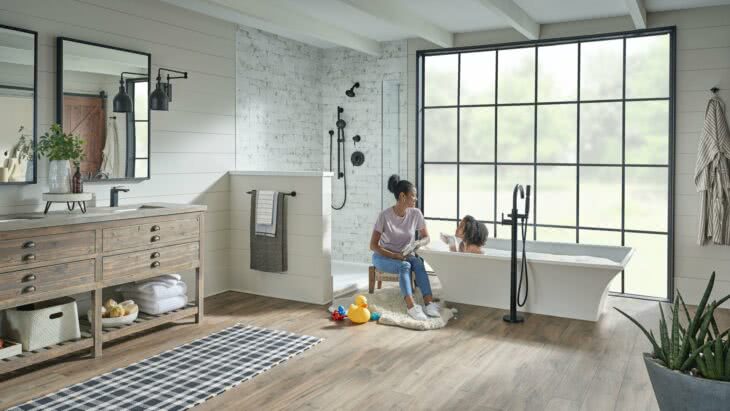 The newly introduced Brushed Bronze is a Permanence® finish and is produced using cutting-edge Physical Vapor Deposition (PVD) technology. The PVD process molecularly bonds the finish to the product, creating the most durable and long-lasting type of finish available on the market. This type of finish makes products super resistant to corrosion, tarnish and scratches. With Permanence, Brushed Bronze products will perform and look like new for years to come.
"In the development of our new tub fillers, we focused on details that provide peace-of-mind," said Hayes. "Our tub fillers feature a pressure-balance cartridge to guard against sudden temperature changes, especially when using the handshower. The cartridge includes an adjustable temperature limiter to ensure your tub can reach the perfect temperature."
Each tub filler comes with a single function, WaterSense®-certified, CEC-compliant handshower featuring a 59" hose for a spa-like experience. The handshower's auto-reset diverter ensures a serene soak by preventing a sporadic spray when the water is turned on. As Hayes pointed out, the pressure balance cartridge prevents scalding when there is any sudden change in hot or cold water supply.
Gerber floor mount tub fillers are easy to install, easy to pair with any bathroom design, and easy to rely on for dependable performance. Floor mount tub fillers require the tub filler rough-in valve, which is sold separate. It can be installed in any direction as long as the bathtub centerline is aligned with one of the six screws on the plaster guard. The plaster guard has a flat top for easy leveling so the trim will be standing straight after installation. A test cap and plugs are included for pressure testing the connection between the rough-in valve and water supply lines.
For more information about the floor mount tub fillers, visit gerber-us.com or call 866-538-5536 to speak with a representative.
About Gerber® Plumbing Fixtures:
For nearly a century, Gerber® has manufactured tried and true, high-quality kitchen and bathroom plumbing products. Each team member in the Gerber family delivers on our commitment to providing dependability reflected in both our products and customer care throughout North America. We earn the trust of trade professionals and homeowners alike who find value in products that have both style and substance – performing without exception for years to come, all while being surprisingly affordable. Gerber's comprehensive offering of plumbing solutions is created with the entire experience in mind, from easy installation to reliable everyday use, and is supported by Gerber's industry-leading warranties. As a partner in the U.S. EPA WaterSense® Program, Gerber is committed to protecting the environment through resource conservation, and creating high-efficiency and eco-friendly products.