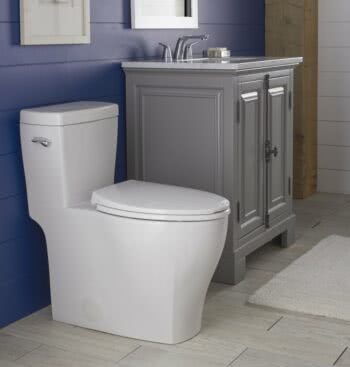 Gerber® Plumbing Fixtures Debuts New Lemora® Whole Bathroom Collection
Woodridge, IL. – Gerber® Plumbing Fixtures, a manufacturer of tried and true, high-quality kitchen and bathroom plumbing products, has launched the new Lemora® bathroom collection. Designed with an ideal blend of clean lines and subtle arcs and edges, this soft contemporary collection draws upon nature's inspiration.
Lemora's forms and flows between design elements are driven by the organic shapes found in the world around us. The line includes 12" rough-in one- and two-piece toilets, as well as faucets and shower solutions for a complete look and simply serene space. Features include:
WaterSense® certified 1.28 gallons per flush (GPF)/4.8 Lpf High Efficiency Toilet (HET) to save 20% more water (versus 1.6 GPF/6 Lpf toilet) and money
Fully skirted concealed trapway for a sleek appearance
A 3" flush valve for maximum water flow and flushing power
ADA compliant
Best-in-class Fluidmaster® 400A fill valve for durable, long-lasting anti-siphon operation and easy replacement
ErgoHeight™ Elongated Bowl for added comfort and ease of use
Gerber QuietClean™ Flush System delivers quiet operation and a spotless sparkling bowl after each flush
Large 2" fully glazed trapway for clog-free waste removal
Large dual fed siphon jets increase the speed of the flush for a quick and clean bowl every time
Large water surface to help keep the bowl clean
Chrome-plated, all-metal tank lever
Soft-closing, top mounted and quick-release seat
Lemora bathroom sink faucet features (single handle and widespread) include durable ceramic disc valves for drip-free performance, laminar flow for a clear, non-splash water stream, and a metal touch down drain for quick installation, fast draining and streamlined form.
The Lemora showerhead and tub and shower trim kit features include:
A 6" showerhead, Gerber's largest single-function showerhead with all premier features
Air Injection™ technology optimizes water intensity even at low pressures
Pressure Manifold™ technology ensures wide coverage and a powerful spray
Easy to clean soft touch nozzles
Multiple tub and shower solutions powered by Gerber's innovative Treysta® pressure balance platform for maximum installation flexibility and endurance
Innovative, time-saving screwless installation for valve trim kits
The Lemora collection exudes the perfect balance between fluid forms and more defined details. Faucets and shower solutions are available in Brushed Nickel, Chrome and Satin Black, and toilets are available in White.
About Gerber® Plumbing Fixtures
For nearly a century, Geber has manufactured tried and true, high-quality kitchen and bathroom plumbing products. Each team member in the Gerber family delivers on our commitment to providing dependability reflected in both our products and customer care throughout North America. We earn the trust of trade professionals and homeowners alike who find value in products that have both style and substance – performing without exception for years to come, all while being surprisingly affordable. Gerber's comprehensive offering of plumbing solutions is created with the entire experience in mind, from easy installation to reliable everyday use, and is supported by Gerber's industry-leading warranties. As a partner in the U.S. EPA WaterSense® program, Gerber is committed to protecting the environment through resource conservation, and creating high-efficiency and eco-friendly products. For more information visit gerber-us.com or call 866-538-5536.