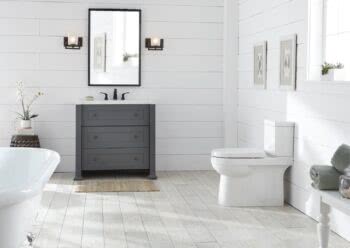 Gerber Wicker Park Collection Adds Sleek Toilet Option
Woodridge, IL – The Wicker Park™ collection from Gerber® Plumbing Fixtures, named for and inspired by the beautiful and elegant West Town community located only a few miles from downtown Chicago, now boasts a two-piece toilet with a fully skirted trapway.
Kevin McJoynt, Gerber's Director of Project Management – Fixtures, believes the toilets and sinks in the collection are reflective of the neighborhood's spirit and vibe, but sport an appeal that extends beyond being a consideration for only urban consumers.
"Wicker Park is our most contemporary collection. It has received positive feedback for its design, as well as helped extend the Gerber range in both the new construction and showroom spaces," he said. "It's also the only collection with a pedestal sink that can be used in a wall-hung position, making it an ideal consideration for consumers who prefer the true minimal or industrial look in their bathrooms."
Once an industrial neighborhood dotted with small factories, Wicker Park has evolved over the years. Its 26,000 residents reside in a mix of new homes and older restoration projects on tree-lined streets. Real estate and commercial development paved the way, attracting flagship shops such as Adidas Originals, Champion and Yeti, in addition to highly rated gourmet restaurants, popular European-style cafes, upscale independent grocers and trendy businesses. The Wicker Park historic district is on the National Register of Historic Places listings in Chicago and is a designated Chicago Landmark District.
Each of the five Wicker Park bathroom sinks offers elegant wash basins with generous deck space. Available in White with multiple faucet hole configurations, it sports a concealed front overflow on drop-in and undermount sinks, or with a rear overflow on the pedestal model.
The three toilets, available in White, provide an elongated ErgoHeight™ bowl for maximum comfort and accessibility, plus a 3" flush valve and unique rim jet that quickly clears and washes the bowl clean. McJoynt says a newly added concealed trapway has caught the attention of consumers.
"The fully skirted style of the newest addition not only looks clean, but is easy to clean too. The geometric design of the Wicker Park two-piece is a perfect complement to the one-piece option, essentially providing a one-piece design at a two-piece price point. And the soft close seat certainly fits with the sophisticated design sense of consumers who are interested in this collection."
About Gerber® Plumbing Fixtures
For nearly a century, Geber has manufactured tried and true, high-quality kitchen and bathroom plumbing products. Each team member in the Gerber family delivers on our commitment to providing dependability reflected in both our products and customer care throughout North America. We earn the trust of trade professionals and homeowners alike who find value in products that have both style and substance – performing without exception for years to come, all while being surprisingly affordable. Gerber's comprehensive offering of plumbing solutions is created with the entire experience in mind, from easy installation to reliable everyday use, and is supported by Gerber's industry-leading warranties. As a partner in the U.S. EPA WaterSense® program, Gerber is committed to protecting the environment through resource conservation, and creating high-efficiency and eco-friendly products. For more information visit gerber-us.com.