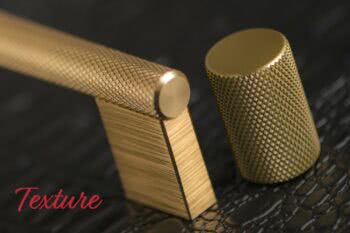 Get a Grip with Mockett Knurled Drawer Pulls
Intricately etched knurled detailing makes for a smooth and steady grip surface. The flawless transition between textures provides a beautiful juxtaposition that will give your furniture the WOW factor.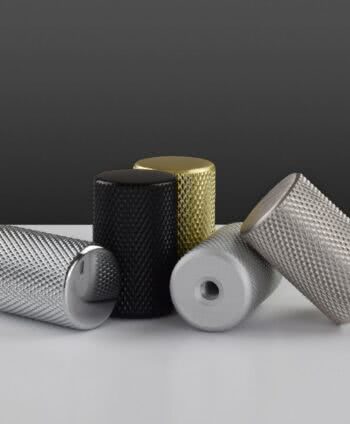 Reminiscent of volume knobs on classic guitars, these unique knobs have a retro feel that makes them perfect for your vintage or contemporary industrial furniture. Available in five finishes: Matte Black, Satin Brass, Polished Chrome, Satin Chrome, and Anodized Aluminum.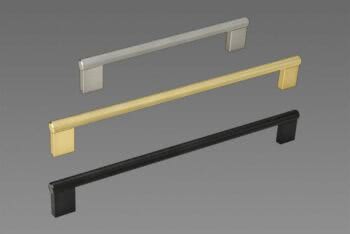 Stunning composition and execution. Knurled Drawer Pulls are available in two sizes and three attractive finishes.
7 5/32″ and 10 15/16″
1 5/16″ projection
Satin Aluminum, Satin Brass, Anodized Black
About Doug Mockett & Company
Founded in 1980, Doug Mockett & Company is the leader in innovative furniture components and architectural hardware, providing "Fine Architectural Hardware for Your Fine Furniture™". We strive for simplicity in design and a spareness in execution. Quality is our guarantee and our commitment to serving you is our promise. We invite you to enjoy our extended product lines in Wire Management, Power & Data Grommets, Furniture Legs, Drawer Pulls, Casters, Coat Hooks, Shelf and Work Surface Supports, Kitchen, Bath and Closet accessories, new ideas in Computer-Into-Desk Integration, and a terrific line of Multi-Purpose Support Brackets.
Visit www.mockett.com for more information and to view Mockett's collection of Fine Architectural Hardware for Your Fine Furniture™.