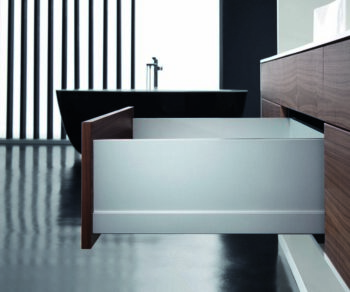 Grass America Announces the Nova Pro Scala Drawer System
Elegant, Modern Look with Unequaled Design Flexibility
Kernersville, N.C.: Grass America, a leading supplier of functional hardware to the cabinet industry, announces the Nova Pro Scala, an elegantly-restyled, functionally-optimized enhancement to the well-known Nova Pro double-wall drawer system. The Nova Pro Scala adds a timeless, futuristic design to the unparalleled quality, stability, running performance and versatility of the Nova Pro, to allow architects to create beautiful, distinctive kitchens and baths for the commercial construction market.
The modern design of the Nova Pro Scala features crisp lines, right angles, and small radii, all perfectly aligned to give a harmonized impression. Custom designer panels can be added to open up endless design possibilities. The satin metallic surfaces, available in Silver, Stone and Ice options, complement the high-end, modern look.
With its modular versatility, the Nova Pro Scala meets the requirements for a wide range of markets and applications. Options include drawer side heights of 63mm, 90mm, 186mm, 250mm, load ratings from 88lb or 154lb, and the Tipmatic Soft-close and Sensomatic touch-to-open systems. Designer panels can be added to offer new design possibilities.
The Nova Pro Scala is designed for exceptionally quick and easy assembly and installation. Grass offers an extensive line of professional installation and assembly machines, jigs and other aids to ensure high efficiency and quality control.
About Grass America
Grass America is a quality-driven manufacturer of hinges, drawer slides, lifters, and drawer systems. The company's first-class movement systems keep America's kitchens, baths, and office facilities operating at their best. Grass America's manufacturing facility in Kernersville, North Carolina, sells functional hardware and accessories throughout the US, Canada, and Mexico via 130 distributor locations and to most of the leading kitchen cabinet manufacturers. The company is proud that its employees come from all over the world and often reach more than 30 years of experience. Choose Grass as your reliable partner in business for functional hardware. Learn more at www.grassusa.com.