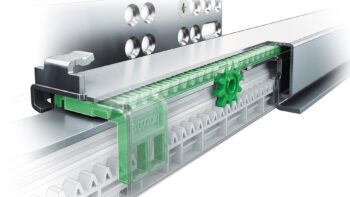 Grass America Dynapro: A Premier Solution for Undermount Slides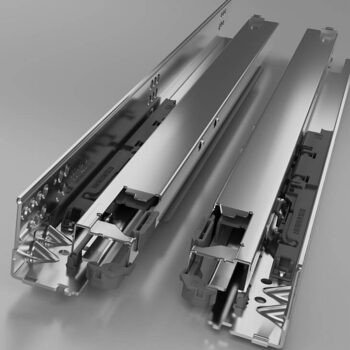 Grass America's Dynapro is a synchronized, soft-close, full extension slide that moves with a slight pull and gentle push to provide an efficient and concealed solution for a variety of cabinetry applications. Known for smooth running performance and quiet kinematics, Dynapro utilizes an integrated rack and pinion system which allows the slides to move in tandem to improve glide, reduce noise, and prevent drawer binding when closing.
Dynapro, rated for loads up to 132 lbs with its heavy-duty model, is suitable for drawer applications up to 48" wide, with no additional synchronization hardware. Abrasion-resistant nylon rollers the keep drawer face level and support the box as it is extended. German-made soft-close dampers brings assure gentle closing, even under a heavy load or hard slam.  The system is compatible with Grass' mechanical, push-to-open, handle-free Tipmatic system or the Sensomatic electronic opening system.
Designed for 16mm – 19mm drawer material, Dynapro hardware is fully concealed under the drawer box for superior aesthetics. The slide works with both face frame and frameless cabinetry, comes in 9" to 30" lengths in increments of 3" and standard, heavy-duty, and extended lengths.
Dynapro is an ideal solution for OEMs that work in the semi-custom space, high-end and semi-custom residential cabinetry builders, and designers. Designed to optimize performance in wide drawer or heavy-duty applications, Dynapro offers flawless operation at high loads and low pull force without additional hardware.
About Grass America
Grass America is a quality manufacturer of hinges, drawer slides, lifters, and drawer systems. The company's manufacturing facility in Kernersville, North Carolina, sells functional hardware and accessories throughout the US, Canada, and Mexico via 130 distributor locations and to most of the leading kitchen cabinet manufacturers. Learn more at www.grassusa.com.