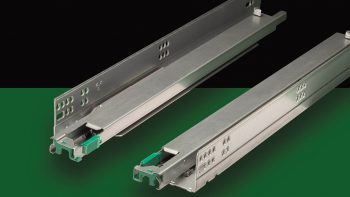 Grass America Introduces the Dynapro2.0 Slide System
Grass America, a leading supplier of functional hardware to the cabinet industry, has launched Dynapro2.0, a slide system that packs the best features of Dynapro into a 2D version. The Dynapro2.0 has a full extension undermount and is synchronized for smooth-running action with a high load-carrying capacity.
Dynapro is used by cabinet manufacturers, furniture manufacturers, and cabinet shops across the globe. Now, the 2D version – Dynapro2.0 – allows end users to achieve the best solutions for even more applications throughout their product line. Both the Dynapro 3D and 2D slide systems are aligned for production and interchangeable in application for greater application versatility.
Dynapro2.0 offers options for a front locking device with 1D, 2D, and 3D adjustments in side, height, and depth. Its soft-close system is fully concealed in the drawer slide cavity, leading to a smooth and silent closing process. The drawer slide lengths range from 9" to 21" with a static weight capacity of 100 lbs. (90 lbs. dynamic).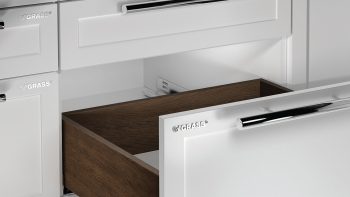 Dynapro2.0 features a liquid damper for soft closing, a support roller for uniform drawer height, wear resistant nylon rollers for quiet, precise operation, and a synchronized full extension. Dynapro2.0 also meets and exceeds the Grade 1 ANSI/BHMA A156.9 Standard.
About Grass America
Grass America is a quality-driven manufacturer of hinges, drawer slides, lifters, and drawer systems. The company's first-class movement systems keep America's kitchens, baths, and office facilities operating at their best. Grass America's manufacturing facility in Kernersville, North Carolina, sells functional hardware and accessories throughout the US, Canada, and Mexico via 130 distributor locations and to most of the leading kitchen cabinet manufacturers. The company is proud that its employees come from all over the world and often reach more than 30 years of experience. Choose Grass as your reliable partner in business for functional hardware. Learn more at www.grassusa.com.