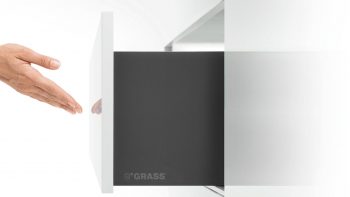 Grass Tipmatic Soft-Close and Sensomatic Opening Systems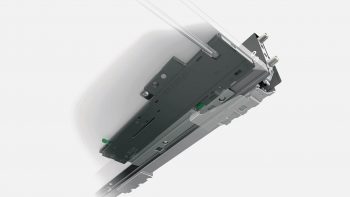 Grass America presents its Tipmatic Soft-Close and Sensomatic opening systems. Designed for ease of opening and closing drawers with a handle-free design, the Sensomatic opening system features an electronically-assisted opening mechanism which allows drawers to be opened by just a touch anywhere on the drawer.
The mechanical Tipmatic Soft-Close opening system is compatible with Grass America's Dynapro, Vionaro, or Nova Pro Scala drawer systems. The installation of Tipmatic hardware eliminates the need for handles, which is ideal for contemporary, straight-lined furniture. The one-touch option means customers can gently touch the drawers just once to trigger opening. They are guaranteed to close softly with Tipmatic's soft-close liquid damper technology.
Similar to the Tipmatic Soft-Close opening system, the Sensomatic system opens drawers with just one gentle touch and applies soft-closing action upon closing. The system opens drawers evenly, even when there is uneven weight distribution within the drawers, such as with trash and recycling bins. The Sensomatic Kit is available specifically for waste bin drawers. This opening system is compatible with Grass America's Nova Pro Scala, Vionaro, and Dynapro drawer systems.
About Grass America
Grass America is a quality-driven manufacturer of hinges, drawer slides, lifters, and drawer systems. The company's manufacturing facility in Kernersville, North Carolina, sells functional hardware and accessories throughout the US, Canada, and Mexico via 130 distributor locations and to most of the leading kitchen cabinet manufacturers. The company is proud that its employees come from all over the world and often reach more than 30 years of experience. Choose Grass as your reliable partner in business for functional hardware. Learn more at www.grassusa.com.