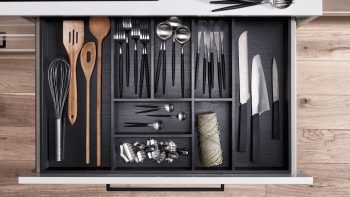 Häcker Kitchens' New Slim Line Drawers Optimize Kitchen Storage with a Sleek Profile
(Miami, FL) Häcker Kitchens, the leading German manufacturer of modern kitchen cabinetry, expands its line of kitchen storage solutions with the introduction of the Slim Line Drawers.
Measuring at half the thickness of Häcker's standard Metro drawers, the new Slim Line solution boasts a sturdy, yet impossibly thin 8mm double-walled frame comprised of high-quality stainless steel. This latest offering allows homeowners and cooking enthusiasts to maintain optimal organization in the kitchen thanks to its increased internal capacity, deep drawer options and three-dimensional adjustment device.
Details:
Available across Systemat and SystematART lines
Available in Noble Titanium interior color
Side Options Include: Standard or Sleek Smoked Glass
Visit https://www.hackerkitchens.us for more information.
About Häcker Kitchens
Häcker manufactures modern fitted kitchens that meet the highest requirements in terms of quality, functionality, durability and design. Founded by Herman Häcker in 1898, the family-owned company, now in the fourth generation, supplies more than 60 countries on every continent. The North American headquarters is located in Miami, Florida. State-of-the-art production facilities combined with a proprietary fleet allow the company to meet customer requirements down to the last detail. Häcker Kitchens is the first kitchen furniture manufacturer whose entire product portfolio is climate-neutral. Throughout the years Häcker has represented consistent values in times of globalization, characterized by a high sense of economic, ecological and social responsibility, always emphasizing the company philosophy: Made in Germany. https://www.hackerkitchens.us/