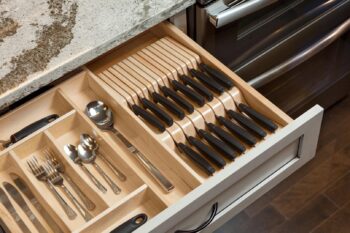 Häfele America Becomes Sole National Distributor for Century Components
Häfele America Co., member of the Kitchen Cabinet Manufacturers Association (KCMA), is proud to announce its new role as sole national distributor for Century Components, a manufacturer of premium, American-made wood components. Century Components' products include spice racks, cabinet and drawer organizers, lazy susans, cutting board pull-outs, vanity organizer pull-outs, waste bins, and more. Customers can view and purchase the full selection of Century Components' products on Hafele.com. The products will also be available through Häfele's nationwide distribution network.
"The Century team is excited about the opportunities to grow with Häfele as we develop and roll out unique products for the kitchen and beyond," says Bill Sewell, National Sales Manager for Century Components. "Häfele customers are a discerning group, and they expect products to look and perform at a high level – we're confident they will be excited about this partnership."
Century Components prides itself on the special attention and care that goes into each item that leaves its Sugarcreek, Ohio facility. Each product is skillfully bench-made by Amish craftsmen with a time-honored tradition of quality and meticulous attention to detail. The new partnership will enhance Häfele's selection, the company says, further bolstering its diverse array of high-quality kitchen offerings.
"The decision to partner with Century and bring their entire product range into Häfele's catalog completes our offerings in this arena," says Paul Smith, President and CEO for Häfele. "Century's proven commitment to quality and innovation is unparalleled, and our customers are going to be impressed with this range of products."
About Häfele
Häfele [HAY fell leh] is a leading worldwide supplier of furniture and architectural hardware components that improve the functionality of cabinets, doors, kitchens, bathrooms and other living and working environments. LED lighting, decorative hardware, opening and closing mechanisms for doors and drawers, furniture fittings and electronic locking systems are but a few of the essential items Häfele provides to manufacturers, architects, designers, contractors and construction professionals in more than 150 countries. For more information, please visit www.hafele.com.