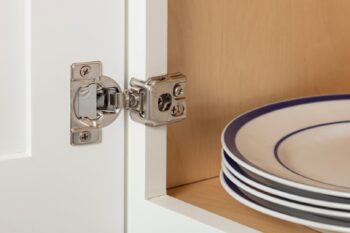 Hardware Resources® Introduces New Compact Hinge with Adjustable Soft-Close
The 9390ADJ Series offers ten speed settings for a range of door sizes
(BOSSIER CITY, LOUISIANA) Hardware Resources, member of the Kitchen Cabinet Manufacturers Association (KCMA), is expanding its soft-close compact hinge line to include the new 9390ADJ Series, an easy-to-adjust, variable-speed soft-close hinge. The 9390ADJ Series features ten adjustment options to control the speed of the soft-close feature. The exceptional flexibility of the 9390ADJ Series makes it the ideal choice for custom cabinetry shops who want to standardize with a single hinge for various door sizes and weights.
"We developed the 9390ADJ Series to give cabinetry makers the ability to simplify their operation by using one hinge for a wide range of projects," said Benjamin Bainter, Director of Product Management for Functional Hardware. "Using a flathead screwdriver, the 9390ADJ Series hinge can be easily adjusted to ten different settings. This allows the installer to set the speed of the soft-close feature to be consistent for all doors, which adds uniformity to the project."
The 9390ADJ Series also features a quiet glide channel that reduces friction and noise when the hinges open and close. This feature, coupled with our ultra-durable, steel soft-close damper, extends the life and reliability of the hinge.
Learn more about the 9390ADJ Series and the full line of Hardware Resources Functional Hardware at HardwareResources.com.
About Hardware Resources
Hardware Resources, a division of PrimeSource Brands, was founded in 1990 and is headquartered in Bossier City, Louisiana, with strategically located warehouses across North America. Their diverse product lines include cabinet knobs and pulls, easy-to-assemble cabinets, vanities, sinks, organizers, lighting and power solutions, functional cabinet hardware, decorative carved wood products, and custom dovetail drawer boxes.  For over 30 years, the focus of Hardware Resources has been the customer. They believe in quality, integrity, and reliability—upholding the highest standards of service and responsibility in the industry.
For more information about Hardware Resources visit HardwareResources.com.