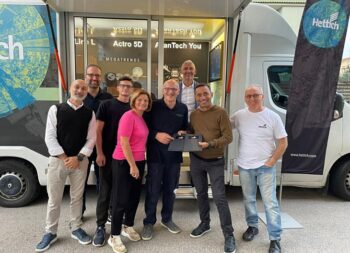 Hettich On Tour Highlights
Hettich is bringing new product releases directly to customers with its Hettich On Tour van-based roadshow and its online counterpart. According to Hettich On Tour project manager Dirk Beinke, "We're providing customers everything it takes to train their teams efficiently and effectively – with virtually no time or travel costs."
Slated to pass through several European countries, Hettich On Tour offers an in-person look at the latest top releases to fabricators, specialist retailers and industrial customers. The roadshow provides an opportunity to see and try key Hettich innovations in action as well as ask questions and offer feedback directly to Hettich.
As a complement to the Hettich On Tour van-based experience, the company also offers an online Virtual Showroom tour featuring everything from ideas and inspiration to planning resources and information on Hettich's comprehensive offering of products and services.
About Hettich
One of the world's largest manufacturers of furniture fittings, Hettich develops and produces a variety of fittings for all sorts of different functions. The drawer systems and runner systems above Hinges as well as Sliding and folding door systems. Because good furniture needs good solutions – for the home, working world and quality of life. Every day, 8,000 Hettich staff members take up the challenge of developing intelligent technology for furniture. A family-owned business, Hettich is at home in Kirchlengern, Germany.