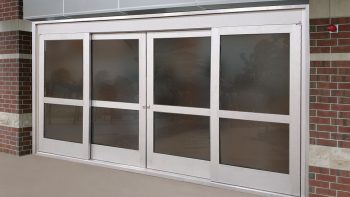 How To Select Doors for Protection Against High Winds and Debris
CORPUS CHRISTI, TX – With NOAA (National Oceanic and Atmospheric Association) predicting above CORPUS CHRISTI, TX – With NOAA (National Oceanic and Atmospheric Association) predicting above average hurricane activity this year, Horton Automatics is reminding architects and property managers to pay close attention to key construction details when selecting a door to withstand high wind and wind-borne debris.
To help architects, specifiers and property managers determine the Risk Category of an application and, ultimately, the level of door strength that is required to sustain the environmental conditions and protect your building and its occupants, Horton is offering two insightful new articles to assist in door selection as it relates to wind force and wind-borne debris.
"Rugged corner block construction, steel reinforced rails and a three-point locking system all work to provide superior resistance to wind," says Brad Bartilson, Horton Manufacturing Product Manager. "Horton provides a range of hurricane-rated doors, each of them designed to meet exacting standards."
Rated from 45 to 55 PSF, Horton's Profiler® Storm Series sliding doors address all but the most extreme conditions. Horton's HD-Storm™ Sliding Door Systems provide even greater protection and are able to withstand wind pressure from 70 to 85 PSF, as per Miami Dade County testing and certification.
Horton's HD-Storm Level E™ Hurricane-Rated Door Systems are Miami-Dade approved and meet the most stringent wind force ratings for coastal as well as inland areas. The HD-Storm Level E adds further design enhancements to meet small and large impact requirements. Horton's HD-Storm Level E can easily withstand the impact of a 9-pound, 2" x 4" projectile traveling at a speed of 80 feet per second (or 55 mph).
For additional information on wind force factors that impact door selection, contact Brad Bartilson at [email protected], 361-866-6665 or contact your local Horton distributor.
About Horton Automatics and Horton Pedestrian Access Solutions
Horton Automatics is the premium access brand of Horton Pedestrian Access Solutions, a division of Overhead Door Corporation. With three manufacturing locations, multiple service locations, and more than 200 value-adding distribution partners across North America, Horton Pedestrian Access Solutions addresses a broad range of specialty door and access applications under the brands Horton Automatics, Won-Door, Flex by Horton, and Door Services Corporation. For more information about Horton's brands and solutions, visit www.HortonDoors.com, www.WonDoor.com, www.FlexbyHorton.com, and www.DoorServicesCorporation.com.

About Overhead Door Corporation
OVERHEAD DOOR CORPORATION, based in Lewisville, Texas, is a leading provider of door and access solutions for residential, commercial, institutional, and industrial applications. Operating through three divisions with a focus on vehicular, pedestrian, and electronic access solutions, OVERHEAD DOOR CORPORATION serves more than 6,000 industry-leading professional distribution partners. An industry pioneer that invented the first upward-acting door in 1921, the first electric garage door opener in 1926, and the first automatic sliding door in 1954, the company manufactures door and access solutions under some of the most trusted brands in North America including Overhead Door, Wayne Dalton, Genie, Horton Automatics and Won-Door. For additional information, visit www.ohdcorporation.com.