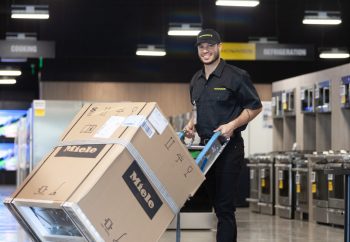 Howard's Announces New White Glove Delivery & Installation Services
Highlights include free next-day local delivery service and eco-friendly appliance haul away.
LA HABRA, Calif. – Howard's, Southern California's premier independent appliance retailer, has announced its new personalized delivery and installation services, providing customers with the highest levels of value and convenience. The reimagined process extends Howard's distinguished, in-store white glove service to product delivery and installation, where expert-trained, professional staff and free next-day local delivery are complemented by eco-friendly haul away.
"We are thrilled to roll out Howard's new, reimagined personalized delivery and installation program," said John Riddle, CEO of Howard's. "Underscoring Howard's commitment to customer satisfaction, our unique delivery, installation and removal services make the process easy for shoppers. Our program is unlike any available from our competitors with fully vetted, uniformed crews available to answer customer questions and who take pride in ensuring that your home is treated with care, leaving it as clean as when they arrived."
Howard's new delivery and installation services eliminate the headaches of traditional programs from big box retailers. The independent retailer offers free next-day, local delivery to get shoppers' products when they want them. The team calls to confirm your timeframe, offers status update texts and lets you track your delivery in real-time.
The independent retailer has also introduced an eco-friendly haul away program, eliminating customer concerns about what to do with old appliances, TVs or mattresses. Howard's is dedicated to the environment, offering removal and recycling of the old products in compliance with all recycling regulations, saving buyers the trouble of determining how best to arrange for their disposal.
"Howard's delivery and installation program offers a store-to-door experience like no other," adds Riddle. "From expedited delivery to installation exclusively by uniformed crews in branded trucks for buyer safety and security, Howard's offers customers a delivery experience like no other."
Extended Warranty & Loyalty Plans
Paired with its delivery and installation services, the retailer offers customers peace of mind with new extended warranty protection plans that shield products beyond the manufacturers' warranties. When you protect your products with Howard's plan, you will receive an immediate 50% discount off the extended plan price. Howard's is also introducing a new program rewarding loyal customers with special benefits including, free local delivery, exclusive invitations to private events and access to limited time offers. Loyalty customers who elect to purchase extended warranty plans can receive a 10% discount off the protection plan price.
ABOUT HOWARD'S
Howard's was founded in 1946 in Los Angeles County, California. Due to the company's focus on customer satisfaction, the business has grown over the past 76 years to become Southern California's largest and most trusted independent appliance retailer. With knowledgeable product experts, the highest levels of service, the best brands with an expansive array of products, and 17 locations in Los Angeles, Orange, San Bernardino, and Riverside Counties, Howard's goal is to help consumers simplify their experience purchasing great products for their home. For more information, please visit www.howards.com.