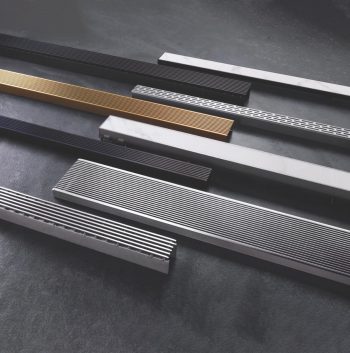 Infinity Drain's Patented Site Sizable® Low Profile Linear Drain Helps Installers Quickly Overcome Challenges
Amityville, NY – Infinity Drain, the manufacturer at the forefront of architectural and decorative drains for both indoor and outdoor applications, is awarded a U.S. Patent (11,427,997 B2) for their Site Sizable® Low Profile Linear Drain. The drain's lower profile helps minimize the floor height needed to achieve a curbless entry shower while the innovative sizable channel system helps installers overcome site specific challenges quickly and efficiently.
"We have a passion for constant improvement, and this is our eighth groundbreaking patent for linear drain solutions," notes Jonathan Brill, President of Infinity Drain. "Our best-selling, award-winning Site Sizable linear drain makes installation easier and more efficient, and the lower profile design requires less build-up on the final mortar bed to enhance accessibility."
"Linear drains are visually more appealing when installed flush wall-to-wall," continues Brill. "With this patented Site Sizable® Low Profile Linear Drain, specifiers can perfectly size the channel and position the waste outlet on location to achieve this luxurious look – avoiding delays or awkward off-the-wall installations."
In addition to its lower profile, the PVC channel option has been designed with a new "mortar lock" groove along the length of the channel to ensure that it stays positioned firmly in the mortar bed floor. Sold as a complete kit, Infinity Drain's Site Sizable linear drains enable modifications to the length and outlet placement to be made on site.
Infinity Drain® Site Sizable® Low Profile Linear Drain Features
Proudly fabricated in the USA
Minimizes floor height needed to achieve a curbless entry
Low Profile PVC channel features a new "mortar lock" design to keep it positioned firmly in the mortar bed floor.
Waterproofing Type: Traditional
Available grate styles: Tile-Insert Frame, Wedge Wire, Slotted
Available lengths: 36", 48", 60", 72", 96"
Available finishes: Satin Stainless Steel, Polished Stainless Steel, Oil Rubbed Bronze, Satin Bronze, and Matte Black
MSRP – Starting at $335
About Infinity Drain
For over a decade, Infinity Drain has established itself as a leader in design-centric architectural shower drains with a reputation of unsurpassed quality.  From hand polishing decorative grates to custom fabrication – all at the exacting specifications of customers, Infinity Drain offers the broadest selection of decorative choices and installation options. Its award-winning designs and innovations, including the Site Sizable® linear drain, continue to shape barrier-free bathroom design. Infinity Drain is revolutionizing bathroom installation with its completely waterproof Stainless Steel Shower Base backed with an original owner lifetime guarantee. Infinity Drain products are proudly fabricated in Long Island, NY, U.S. For additional information, visit infinitydrain.com.