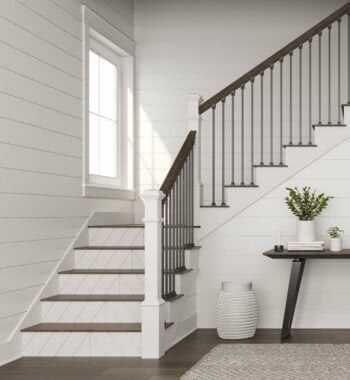 Interior Stairways Get New Look with L. J. Smith Reversible Stair Risers
BOWERSTON, OHIO – Building industry professionals eager to upgrade the look of an interior stairway can now rely on Reversible Stair Risers from L. J. Smith® Stair Systems. The new risers feature a shiplap design on one side and a beaded planking design on the other, making it easy to create an entirely new look for a stair system.
Made of Primed Poplar, the Reversible Stair Risers are 7-1/2" tall. Each ¾" thick riser can be ordered in lengths of 48", 54" or 60".
"These unique reversible risers mitered to the stringer will 'liven up' the look of any stairway," says Craig Kurtz, president of L.J. Smith Stair Systems. "The risers can be painted in an accent color to create a stand-out staircase."
The fresh, new look of adding Reversible Stair Risers during the construction of a stairway system provides builders with a way to set their home projects apart in the marketplace.
"There really is such a thing as 'interior curb appeal,'" says Kurtz. "Builders who take the extra steps and add unique, unexpected touches to their homes make them more relatable to potential buyers. The versatile designs of the Reversible Stair Risers allow builders to select the option that best fits the job and their overall vision for the home design."
About L.J. Smith
L.J. Smith, a Novo Building Products Company, offers a wide variety of products including wooden and ornamental iron balusters, metal panels, stainless steel cable and tube infills, metal panels, newel posts, hand rails and accessories. All products are defined by their unique designs, uncompromised durability and good looks. For more information, visit http://www.ljsmith.com