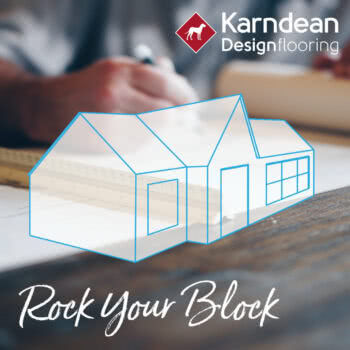 Karndean Design flooring product to appear on HGTV's Rock the Block
EXPORT, PA – Luxury vinyl tile specialist Karndean Designflooring will be featured on the upcoming season of HGTV's Rock the Block, a competition style show in which top HGTV home renovation and designer duos have a $225,000 budget and one month to transform identical homes on the same city block and earn ultimate bragging rights.
Duo Brian and Mika Kleinschmidt of 100 Day Dream Home incorporate two size formats of Karndean Designflooring Glacier Oak, from the Art Select 30mil gluedown range. Developed from a selection of French oak boards, which have minimal knots and a tight grain pattern that results from the trees growing so closely together, Glacier Oak is a subtle tonal floor.
"We're thrilled that Brian and Mika wanted to use our gluedown luxury vinyl throughout the home and chose to incorporate both the 56" x 9" planks and the 18" x 3" accent planks into their overall design," Karndean Designflooring director of marketing Jenne Ross said. "We look forward to seeing who wins the season and we will be rooting for Team Brian and Mika every step of the way."
Karndean Designflooring is holding a contest on its Instagram page throughout the duration of the season, giving one lucky consumer the chance to "rock their block" and earn a $500 voucher towards the purchase of a new Karndean floor.
Season two of Rock the Block premiers March 8 at 9/8c on HGTV. For more information about Glacier Oak and the Rock Your Block contest, visit www.karndean.com/rocktheblock or follow @karndean_usa on Instagram.
Karndean Design Flooring is a global leader in luxury vinyl tile (LVT) flooring design with operations in the USA, UK, Australia, New Zealand and Canada. By offering a wide range of colors, textures and finishes, our products allow you to create looks that are unique to your home or business and are guaranteed to last. With a passion for creating floors which are both stylish and practical, we're here to help customers find the right floor for their space, needs and unique style.