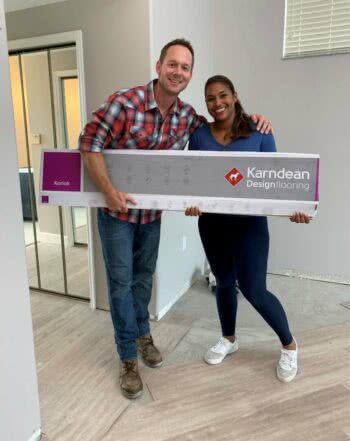 Karndean Designflooring Creates "Dream Floors" with Brian & Mika Kleinschmidt
EXPORT, PA – Luxury vinyl tile specialist Karndean Designflooring has partnered with television personalities and builder and designer duo Brian and Mika Kleinschmidt for a digital campaign that guides homeowners through the journey of selecting and designing "dream floors" for their homes.
In a three-part video series, Brian and Mika introduce consumers to Karndean Designflooring's nearly 50- year history of crafting luxury vinyl flooring, which luxury vinyl format is right for them and how to design for their home.
"Like Karndean Designflooring, Brian and Mika are versatile experts in their field. They're a natural fit for our brand and share in our goal of motivating homeowners to think about flooring differently – as a leading interior finish rather than an afterthought," Karndean Designflooring director of marketing Jenne Ross said.
The digital campaign will be cross-promoted within the Karndean Designflooring retailer network nationwide with a point-of-sale signage update. "Homeowners can scan a QR code in-store and watch the videos as they shop our displays and talk through design options with their retail sales associate," Ross added.
Karndean and the Kleinschmidts previously partnered on Season 2 of HGTV's Rock the Block, where Brian and Mika installed 30mil gluedown product Glacier Oak throughout their competition-winning southern craftsman home.
"We love using Karndean flooring in our designs. They have a diverse selection of styles and textures that allow your creativity to run wild. It's not only easy on the eye, but also easy to install. The best part is the floors won't break the bank or your back. Karndean helped us 'Rock The Block' on TV and many others' blocks in real life," Brian and Mika Kleinschmidt said.
To view the videos, visit www.karndean.com/videos.
About Brian and Mika Kleinschmidt
Custom home designers Brian and Mika Kleinschmidt create, build and completely personalize a home from the ground-up for their clients in only 100 days in HGTV's 100 Day Dream Home, currently filming its third season. Mika is a realtor and Brian is a developer. Together, this husband and wife team make dream homes come true, helping clients design and build the perfect house in the perfect location. Most recently, the couple won the second season of HGTV's Rock the Block. To learn more, visit www.dirt2design.com.
About Karndean Designflooring
Karndean Designflooring is a global leader in luxury vinyl tile (LVT) flooring design with operations in the USA, UK, Australia, New Zealand and Canada. By offering a wide range of colors, textures and finishes, our products allow you to create looks that are unique to your home or business and are guaranteed to last. With a passion for creating floors which are both stylish and practical, we're here to help customers find the right floor for their space, needs and unique style.