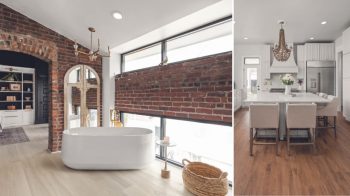 Karndean Designflooring Partners with HGTV's Mina Starsiak-Hawk
Luxury vinyl flooring specialist Karndean Designflooring has entered a partnership agreement with Mina Starsiak-Hawk, home renovation expert, real estate agent and star of the HGTV series "Good Bones" and its spinoff "Good Bones: Risky Business."
"My history with Karndean goes back several years to 'Rock the Block: Season 1' and we've continued to use their products on our properties ever since. I understand what it's like to have young kids, big dogs and a busy life, and to need a reliable flooring product like Karndean that can handle all of that. Providing a durable floor for our clients, along with the added option of using pattern in our flooring, are features that set our homes apart and that's why we love working with Karndean," Starsiak-Hawk said.
Karndean and Starsiak-Hawk recently partnered on several Season 7 episodes of "Good Bones" and the spinoff series "Good Bones: Risky Business," which followed Starsiak-Hawk as she transformed a 6,000 square-foot Victorian mansion and adjoining carriage house into a bed and breakfast and event space. Earlier in 2022, Starsiak-Hawk appeared with Karndean at The International Surfaces Event (TISE) to help unveil flooring and design trends.
As part of the partnership, Karndean will be a key luxury vinyl flooring supplier for Two Chicks and a Hammer and the two companies will collaborate on behind-the-scenes social media content to bring Mina's unique perspective on designing with Karndean Designflooring to consumer audiences.
Season 7 of "Good Bones" currently airs Tuesdays at 9pm ET/8pm CT on HGTV.
About Karndean Designflooring
Karndean Designflooring is a global leader in flooring design with operations in the USA, UK, Australia, New Zealand and Canada. By offering a wide range of colors, textures and finishes, Karndean products bring unique looks to homes and commercial applications and are guaranteed to last. With a passion for creating floors which are both stylish and practical, Karndean helps customers find the right floor for their space, needs and unique style. For more information about the company, and to view its full range of flooring products, please visit www.karndean.com or follow on social media.