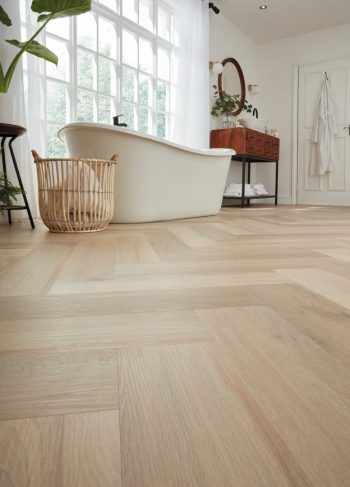 Karndean Korlok LVT Flooring Additions Capture Preference for Casual Luxury
Export, PA – The latest visuals from luxury vinyl tile (LVT) specialist and design leader, Karndean Designflooring, join the company's award-winning Korlok Select and Korlok Reserve interlocking rigid core ranges. The new designs capture the returning preference towards mid-to-dark warm woods, along with the pandemic-related consumer trend of casual at-home luxury.
"Not only are these refined mid-to-dark warm woods a classic choice, but (until now) were vastly underrepresented within the rigid core category as a whole," Karndean Designflooring director of marketing Jenne Ross says. "With the ever-growing drive of casual luxury, our new light neutral herringbone planks and other minimalist, clean-lined visuals reflect our interpretation of how to create a relatable, yet luxurious home through flooring."
Korlok Select
An entirely new Korlok Select design was developed from hand-selected floorboards found in an old railway station in the Highlands of Scotland. This design embodies the characteristics of a mature wood while thoughtfully balancing cracks and markings to create an authentic LVT design. The addition of a fully registered emboss brings the visual to life by showcasing the subtle grain movements of the original boards. This design is available in two colorways, Glenmore Oak and Braemar Oak.
In addition, a new colorway in the range's existing Baltic Oak design, achieved by mixing a variety of wood grades, is now available (Baltic Coastal Oak); along with two existing colorways are now available in an additional 24" x 6" rigid core herringbone format (Texas White Ash and Canadian Urban Oak).
Korlok Reserve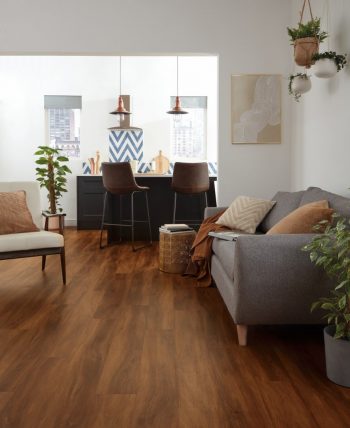 A new clean, yet characterful American Elm design has all the depth of the natural wood without overpowering a room. The warm reddish tones of Marron Elm bring a more classic feel, while the cool gray tones of Ghost Elm suit contemporary and coastal interiors.
In its natural form, American Maple is relatively straight grained and fine textured, creating an elegant and understated floor. Karndean designers fumed the boards to enhance the wood's underlying features, highlighting the subtle contrasting tones in the knots and sap marks, to create Smoked American Maple.
European sycamore has a fine, close texture and is naturally a light, almost white color. Millstone Sycamore features ivory tones that make it ideal for modern or contemporary spaces where a more neutral floor color is desired.
The technology behind the designs
All Karndean rigid core products feature the company's proprietary, 100% waterproof K-Core® technology for installation over most existing hard floors, without the worry of exposing subfloor imperfections. Its acoustic foam backing helps to reduce noise transfer, making this product ideal for upper levels in the home, and does not promote the growth of mold, mildew or bacteria. Planks are secured in place with a patented and proven click-locking mechanism, including a 5G® fold-down mechanism on Korlok Select products.
Products within both ranges are finished with K-Guard+® surface protection, which uses polyurethane technology to provide a hygienic and durable surface – perfect for busy households. The products' 20 MIL wear layer is suitable for commercial applications.
About Karndean Designflooring
Karndean Designflooring is global leader in luxury vinyl tile (LVT) flooring design with operations in the USA, UK, Australia, New Zealand and Canada. By offering a wide range of colors, textures and finishes, their products allow you to create looks that are unique to home and business and are guaranteed to last. With a passion for creating floors, which are stylish and practical, they help customers find the right floor for their space, needs and unique style.