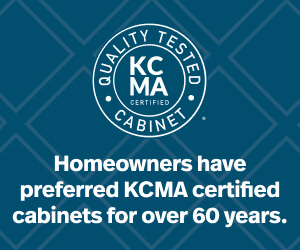 KCMA-Certified Cabinets Become Increasingly Important as Designers Confront Tough Economic Times
As consumer budgets tighten while remodeling activity surges upward, designers deliver added value by recommending KCMA-certified cabinetry
RESTON, VA. – The Kitchen Cabinet Manufacturers Association (KCMA), as it approaches its 70th anniversary, has doubled its efforts to remind interior designers about the importance of certification in cabinetry through its KCMA A161.1 Quality Certification Seal program. The KCMA is the leading certification program in the cabinet industry and is widely recognized as the foremost quality standard for cabinetry.
"Who doesn't want to know more about what they are specifying these days?" asks KCMA CEO Betsy Natz. "KCMA has been the standard of excellence and assurance in cabinetry for almost 60 years. We wanted to remind everyone in the path to purchase –architects, showrooms, dealers, consumers and especially interior designers – what to look for in a cabinet…and that's the KCMA A161.1 Quality Certification Seal."
Manufacturers seeking KCMA certification go through a myriad of tests that simulate a cabinet's typical lifetime of use. The test methods are detailed in KCMA's A161.1 standard, which is "unique in that it is the only performance standard for kitchen and bath cabinets," according to Chuck Arnold, Vice President Standards & Certification at KCMA. "This assures the value chain participants that specific standards have been met, giving the consumer confidence in what's installed in their kitchens."  KCMA is an ANSI accredited standards writing organization, the KCMA A161.1 was developed and has been revised according to ANSI procedures providing for a fair and unbiased standard.
Among the KCMA A161.1 standard tests are:
Structural tests meant to verify the structural integrity and strength of cabinets.
Drawer tests focused on the mechanisms to operate with loading during normal use.
Door operation tests to measure the ability of doors, hinges and means of attachment to withstand daily use.
Finish tests that simulate the cumulative effects of years of normal kitchen conditions of pre-finished cabinets.
"These cabinets are put through rigorous procedures," Natz added, "and that's why it's so important in tough economic times for interior designers to know they are specifying quality. Everyone says they have quality, but someone has to verify what quality means. Our members submit their products to the quality test, the KCMA A161.1, which is the mark of assurance."
The new marketing communications program messages are shaped to remind the value chain participants like interior designers about the quality commitment behind the KCMA seal. The messages include:
No cabinet brand is a deal without this seal.
Homeowners prefer cabinetry that passes the test.
This kitchen is certifiably excellent.
"Our members and customers have been enjoying quality for almost 60 years," Natz concludes. "When they see that seal, it gives them more comfort in their purchase, and architects, dealers and designers know this as well. They can sell or design their cabinets with confidence and pride. It's a win-win."
For more information on the KCMA A161.1 procedures, as well as the messaging, contact: Mike Metz, Director of Marketing & Membership, Phone: (703) 264-1690, Email: Mike Metz[email protected]
ABOUT KCMA. The Kitchen Cabinet Manufacturers Association (KCMA) is a non-profit organization founded in 1955 to represent companies who manufacture cabinets, bath cabinets, or other residential cabinets and key kitchen and bath industry suppliers. With a membership now more than 300 strong throughout North America, KCMA works to advance the cabinet industry through advocacy, setting cabinet quality standards, sponsoring kitchen and bath cabinet-related research, and providing the cabinet industry with management tools and educational programs.